**This will be the first of many. By the way,

Ben Tumbling

is a character I recently introduced in

one of my posts.

He's been very maldita ever since.





I've had it na talaga

with some loser na posers ha with their trying hard na social climbing! Kainis ha, like there was this time na I was blog hopping, and I saw this one blog na talagang nakaka-galit the english ha. Kasi naman eh, a lot of super cool people like me are doing the blog thing talaga. So shempre, the feeling cool na social climbers taking up Refrigeration Engineering sa yucky na Capellan Institute of Technology also register sa Blogger and try to keep up with the Joneses like me. Hay naku. Yeah, I before I forget ha, Momel says that he's going to include a blog roll or a link list of the astig na people na reading this blog. He'll be updating soon to celebrate his 3000th hit.

Drama queen. Enough with him nga muna kasi like what Princess Baldo told me one time na he's having his kadiring ingrowns pulled, "Moment ko ito noh."


Pero like Momel used to say, there are no real rules to blogging naman eh. Okay fine, bitch. That Momel talaga with his laos na fountain of wisdom is sometimes kaka-inis rin. Sobrang feeling naman niya na he's like the Voice of Reason or some stupid shit like that.
And he has to make "Pasok, Tulfo" pa always.

Hmph. But that doesn't stop me from making lait this one blog shempre. For instance:


Duh, since when pa is siomai Japanese huh? Kakagalit, right? Kasi naman gurl, you have to mention pa na it's Japanese eh. To quote Kris Aquino, you have dalawang ekis na tuloy.



OMG, you're sobrang feeling conio like me talaga. I had a hard time talaga pronouncing Rs before kasi naman my ortho made me wear fucking

bwaces

. In between vowels daw oh. Ouchie! Like,

away

ko.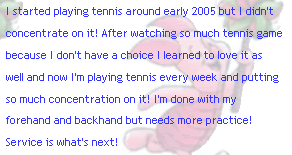 Alam mo gurl, you have to make aral how to pwoperly use the tandang panggulat noh. I mean, the exclamation point pala. There you go, you make balik-aral na lang your punctuation marks noh. Watch na lang Sine-skwela (or something) sa local channels kasi I'm sure your jumper cables for SkyCable will be reported by your inggiterang neighbor. Watch na lang the sobrang laos na Kuya Bodjie in Sine-skwela (or something). That's what next. OMG, parang feeling ko I need to take Calci-block na talaga.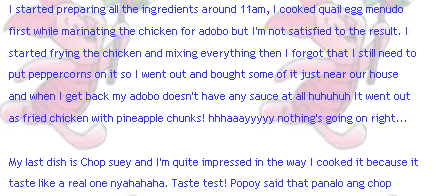 My stwess level and my blood pwessures kakagulat na talaga huh! This calls for banig banig na Calci block na. As in, for real! Pero in fairness naman huh, she's really trying to blog naman eh. So there's an A for effort na lang to our celebrated social climber of the week.

I'm so salbahe talaga sometimes. Kasi naman noh, it's nakakatamad na sometimes making tambay lang in ATM machines just to make sure na those third world ATMs dispense and display my nakakalulang complete balance. Tapos when I'm bored na looking at my maraming pera, I try to do something naman na productive. Like work on this blog. Pero that's occasional lang naman kasi Momel channels me only when he's not trying to out-cool me with his matalinghagang bullshit noh. Honestly huh, he's so Kristy Fermin sometimes with his metaphors. And you know naman na nothing spells "luka-lukang jologs" like that trying hard paparazzi Kristy Fermin.

I sometimes wonder talaga why or how we're bound in the same body, that Momel and myself. Kasi nga diba, add all my cool to his anti-social autism, and it's going to be like, sobrang nuclear na reaction. And then that cocksucking Gay Queen has to make singit pa sometimes with her sobrang libog na manunupang "I'm-all-that" attitude.

Buti na lang noh, we're not like someone I know na who's both Jim Carrey and Jeff Daniels in one body. Kasi nga diba, Dumb and Dumber siya. So I guess I'm cool na rin with this situation. And siguro I won't be doing another fault-finding session muna kasi naman this blog is so not perfect anyway. As in. I'm going to make that ulit ha,
this blog is so not perfect.
I mean, Momel now claims na he's trying out three personalities or styles in his writing. Duh, what's the point of using different styles eh this is not Kung Fu naman diba? It's just a freaking blog okay, so let's just have fun na lang. For the meantime, I'll make tambay na lang sa I-bank.