**And it's getting ugly.
I have noticed, recently, that I am always on the alert for his attentions, which he pours in generous showers, and I am increasingly pining and trying to get myself noticed. It is no longer sweet. It is rather disgusting, and pathetic, and is a far cry from the image that I am trying to project. I am supposed to be simultaneously fearless and bold, detached and caring, but clingy? Motherfucker, this will be the death of the person that I have always wanted to be.

True, we've had a month behind us, but that doesn't warrant this love fool that I am mutating into. Nothing does, because I am supposed to be tough as nails and ready to flip the finger with my eye. A person with the demeanor that I am trying to accomplish doesn't text his lover that he can't sleep. And he spices that up with a sad-faced emoticon, for good measure! Mother-fucker! What bad taste! What reproachful vileness! What unprecedented pathetic-ness! Since when have I become a dreamy, sheltered fifteen year old with an intact hymen?

I have recently subscribed to the

Shit Happens Let It Go School of Reasoning.

I got it tattooed as a matter of fact.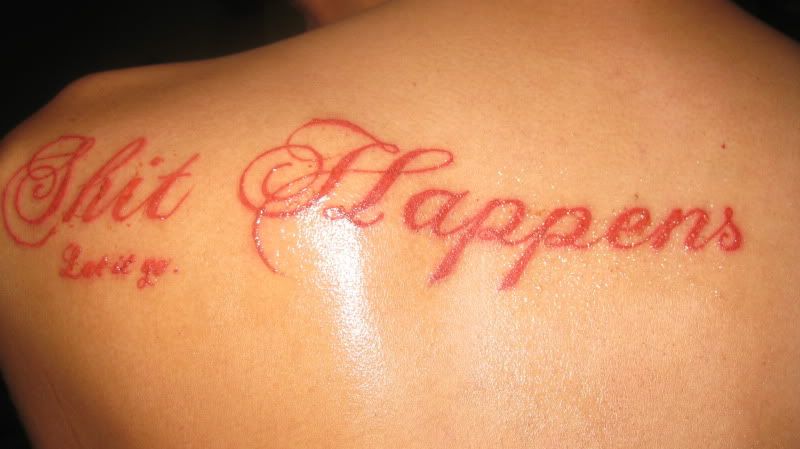 And now this?




You see, I love tattoos, and I like to rock, and I drink like a sailor during weekends. And I like to get fucked, and I like the taste of cock, and I foul mouth in wonderful excess. I trash talk with the boys, and I laugh real loud with the homos. I was all that before I met the Punk. But I am never bashful, let alone clingy, and I am suddenly texting that I can't sleep with a sad-faced emoticon to match.


Ay gran hijo de la puta! Madre de dios!

He didn't text back. Hah, serves you right, faggot. But he found some other way to communicate. This sweet, sweet Punk is killing me good.