Motherfucker for Reviving my Lust for Horror Movies.

That was the complete mouthful; I elected to truncate this title because I have decided to irritate my Facebook friends with my weekly blog updates. The problem with that is some people in my network, like two or three of them, still see me as this very proper Catholic girl with a solid moral upbringing that leaves no room for unbecoming ideas. I have decided to respect that.
**Hey, guess what, my 70th follower! I don't know why, guys, really, I really don't have a clue. That same sentiment goes for the medication that you all should be taking. And having said that, you know I love you back. All 70 of you.
**Update: And then we have my 71st. You rock. All of you. And I will be writing you something nice next week, too. This will go out to all 71 of you, and to my regulars (haha) as well. Thank you.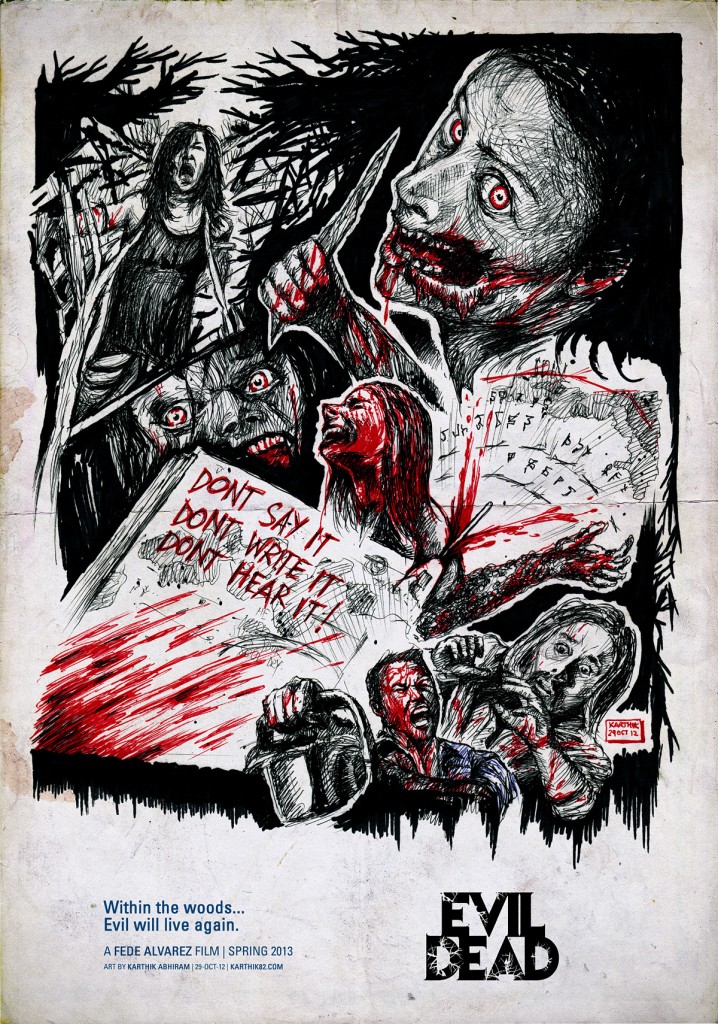 Image from karthik82.com
Evil Dead 2013. I am not going to write a review for it; I have never completely recovered from the tiresome procedure that was my thirty eight horror movie reviews. The last one I did was in July 2010, and I am still reeling from the stress and pressure. I will never do another horror movie review. That's what I said back then, and that's what I will maintain.
I thought that marrying two of my most beloved interests, that of writing and horror movies, ensures that I will never run out of material to write. I was right for the first twenty reviews, and then I realized I was kidding myself. Not only did I get tired of taking notes while viewing; it was an endeavor that sucked the fun out of screaming just for the hell of it.
A horror movie was no longer fun, back then. It was just another blog update.
Having said that, I encourage you guys to watch this motherfucker. You might need to see it twice; you will not get enough of it's relentless brutality. The pace and the imagery? Oh, madre de dios, hijo de puta. And, for good measure, try to watch it with two or three of your best alcoholic friends. And a liter of Emperador lights. You will need a drink during your first viewing. Underscore "during."
Again, this is not a review. In case you missed the very obvious, it's a thank you note. And now here's a recommendation: I would suggest that you guys stick to ice cold water for your chaser. Any of them gay-ass weak-type juice concentrates will paralyze the necessary courage that your (hard) alcoholic drink of choice provides. The fake courage will see you through this entire movie.
And

before I forget,

much props in a z-formation to this other bad ass of a horror movie. It warmed me up real good prior to this year's Evil Dead. I am not reviewing The Conjuring, but I have to admit, 2013 has been very generous to the genre. No wait. It goes more than that. Truth is, 2013 is a fucking multiple orgasm for horror movie lovers.
Image from impawards.com