**It's the sweet face of mercy.

This is what I've been waiting for all these time. A validation, at last, of the people that matter. Of course outside of the family you were born with and created for yourself, those people are now in a list. Everybody else who thinks the universe rotates around their own personal axis, are you reading this Kris Aquino?, can go suck a nut as we now have a comprehensive enumeration of the people whose work and accomplishments actually count for something. Something important and worthwhile that is. That means no, Boy Abunda, your Melodic Conversations bullshit album doesn't count. Shove it.
It's a 100-strong list, and guess what, you're probably not in it. The people in this enumeration go beyond humility, whereas the people who think they should be in this list, are you reading this Tim Yap?, are too busy social climbing to accomplish anything that matters at all. I like this list because it's the best measure of significance. It's an unpretentious reality check that tells us, tells me at least, what I need to do before I go on ahead with the delusional sashaying.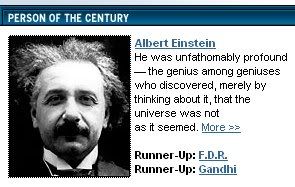 This list goes a long way, and that pretty much tells me to abandon what plans I have of assuming that "I'm a Page Rank 3 Blogger, so dammit, you WILL hear me roar." Say what? Say what the fuck? The people in this list causes my accomplishments to go limp in comparison. By a whole mile. A thousand. The distance between our accomplishments, curse me but I am making a point, that distance is all too grand it leaves no room for penis envy.
Is that snotty whats-her-face Yeng Constantino reading this? You have a friend who'd do well to read this? Click away, and join me with this new found appreciation for shutting the fuck up. See, it's so lonely being this humbled.
THE TIME 100: THE MOST IMPORTANT PEOPLE OF THE CENTURY
I am soo adding this to my roll. And this next link too
HEROES AND KILLERS OF THE 20th CENTURY