**What do you do when your cat starts grooming you? And yes, Saffy is a cat.



Dear Saffy,

So I have this Siamese boss, goes by the name Prince, and he assumes he's royalty because I call him that. Anyway, we've been together, or I have been his property for close to three years now, and I'm writing to you because his recent grooming habits have come to include me.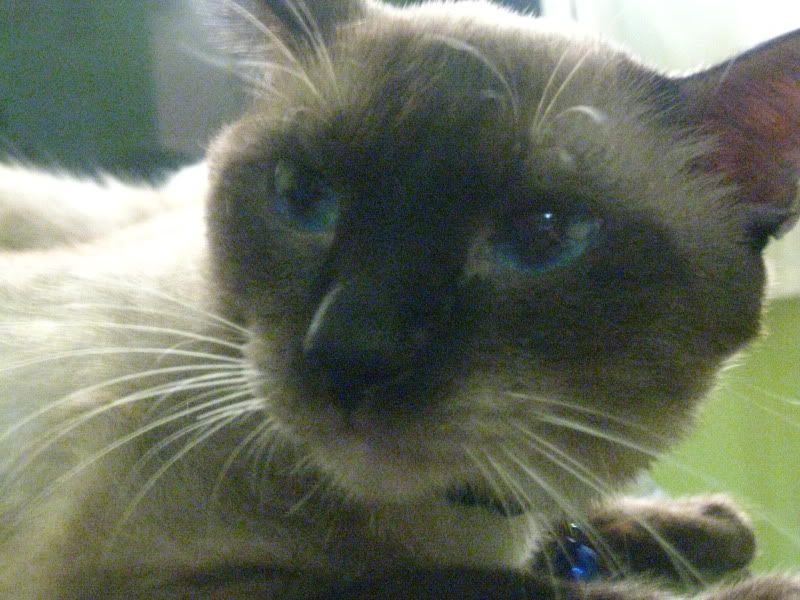 This here is the boss.

Here's our routine. I get home at around ten in the morning, and the mere click of that lock sends him running from his room upstairs. He meezers his way downstairs to where I will be taking off my shoes, and then he starts rubbing his whole length off my legs. The Siamese are long cats. And their awful miaowing, which is to say guttural, is an acquired taste.

So I take off my shoes, deposit my coffee mug in the sink, and then go upstairs to change. He will be a foot away from me all that time, and he will be miaowing me to my death if I don't pick him up and hold him like the baby that he is. Literally, like the baby that he is — I cradle that bothersome sweetheart for a full minute and I look at ourselves in the mirror. And then he licks my arm with that rough tongue; he uses his wet sandpaper when he's cuddled enough. I have changed to my houseclothes by then, and then I will go down to sit on the sofa. He will still be a foot away from me.

Have I mentioned that I talk to Prince and then he miaows back? Always? Sometimes I assume that he's cursing back, but I have come to expect that. Yes, he talks back, and I will far rather drown than talk shit in your presence.



So I sit down on the sofa and do nothing for some time; I will be reading a book or growing my Pokemon, whichever's handy. And then this Prince will heave his weight on my stomach and curl into a ball. Have I mentioned that he's a long cat, close to two feet, and he's slender? Anyway, he makes sure that I'm uncomfortable enough with his hairy, curled up length before he starts to groom himself. You know how it goes — he starts with his right shoulder, gives it a few long licks, keeps his eyes shut all that time, bites himself some, and then rinses his left shoulder in the same manner. He then proceeds to fashion the small of his back with the same discipline, but he does so briefly because he's curled up. What takes time, though, is his face. He licks his arm, whichever's handy, until its moist enough and then he pushes his face on it two to three times. And then he moistens his arm again. And then again. And then again some more. Why, the world will have ended before he's just about satisified with his handiwork. You'd think that he'll be coughing up a hairball that can sink the Titanic anytime soon, but no. He proceeds to wash the right side of his face!

This feline ceremony seems to go on for hours when observed from a distance. Imagine the bother when he grooms himself while he's lying down on you. But it gets more troublesome, though. Just when I think that he's done and proper, he starts licking at my shirt. At first I thought he missed a spot, and then he might have over-licked or something, but he works at that same spot on my shirt, just above the stomach until it's moist! I am not kidding you, Saffy, and I sure as hell am not imagining things. I can feel the friction between my shirt and his wet sandpaper, and it's bothersome, but he doesn't quit until I've had enough licking for the morning and shushes him. Shush! He pauses some, briefly looks at me with those deep blue cat eyes, and then continues with this extended regimen that has come to include my alarmed person. I then shove him away, and then he miaows something on his way up the window sill.

He's done this quite a lot of times before, and I suspect he'll be doing this again this morning when I get home.

I am writing this to you, Saffy, because I want to know — what's up with Prince?

Licked,
Momel