**I will be 31 next month, and I feel like documenting what maturity has developed in my bullshit person. This list pretty much covers just about everything that I have learned so far. This may not apply to you, but that's alright. It's your life, and you have your own lessons. But I believe in learning something as you go along. Otherwise, what the hell's the damn point?
**What makes this ironic is that I was half-drunk when I was writing most of this. And that was longhand. I looked back at this in the afternoon following the hangover, and I was expecting to read some slurred ramble, but I sounded sober as I was reading this back.
1.

Shit Happens. Get over it.





2.

The friends you've had for these five, ten years approaching your thirtieth will be the same set of darling assholes you're stuck with for the next five, ten, fifteen years of your life. Appreciate them, and acknowledge their influence. You chose to stick with them in the first place, right?



3.

The scope of support that the family you are born with will never cease to amaze you. Find time to do something together.






4.

The earlier you move out of your mother's house, the better. Independence builds character. And, by the same token, I would like to say this one related thing, and I say this with the sincerity of a medical diagnosis --

Life lessons (from people who still live with their parents) are a mighty empty mess.

I'm not buying it. Put a lid on your second hand hearsay. They have the strength of a superstition.

Yeah, if you can support yourself at the age of five, then go for it. Fucken smart ass.



5.

Looking for the love of your life is a thoroughly unproductive pursuit. He finds you, instead. I know the cheesy is just over the top. I know. I'm getting a piece of rope and a monoblock chair to stand on and kick later.



6.

Find time to do the things that make you feel alive. Read a good book. Smell the coffee and then drink it warm. Laugh out loud. Hang out. Play pool. Get tattooed. Sing in the shower. Do it loud. Dance alone. Masturbate. Get drunk. Get laid. Do it again.



7.

Nothing else takes up more of your time than regret. What do you propose to do about it?



8.

Okay, age is just a number. But, believe it or not, it shows on your face. Moisturize.



9.

If, in consequence, you don't have to pay bail for it, or it doesn't get you confined, then, by all means, get it done.



10.

Don't get so worked up over stupid opinions. I mean, why?



11.

Never think you're prettier. Or better. Somebody's bound to steal your thunder, by and by.



12.

Allow me to quote Mark Twain --

"Jealousy is a property of small minds."

Be real good at something, work at it and practice, until you get to the point of over-qualification.



13.

Be good at something, even if its in the fine, delicate arts of foulmouthing or masturbation. It doesn't matter what. But make sure you excel at it.



14.

You are bigger than your blog.



15.

You should have more of an identity than your Facebook page or status.


1.

Blog Soup #11: Your Facebook Status Sucks, Breaking the Three Month Rule, and Hooray for Smelly Third World Shit!


2.

The Seven Annoying Facebook Posters
3. Truly, Facebook Brings Out the Attention Whore in Each of Us.



16.

You should have an offline life. It's becoming uncommon these days.



17.

One should be comfortable with his or her sexual orientation by the age of thirty. Or at least be honest about it. You had thirty years to figure that out.



18.

Some people are just unwashed assholes by default, and that can't be helped. You just have to be an asshole in return. Be a bigger dick, though. That's the only way it works.


1.

How to be Rude
2. How to Be Rude: Burgers



19.

Life is about living. Live long. That being said, it will be in your finest interest if you could just stay away from that faggot Jim Girl. He will frustrate you to an early grave.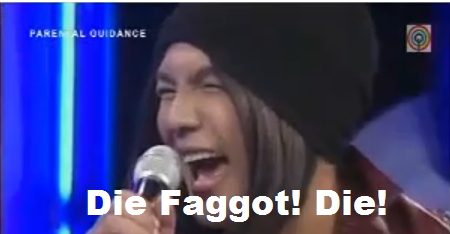 If you have to hate something, then hate with a passion.
1.

Fuck You Jim Girl, Here's Your One Thousand Words


2.

What, No Career Yet? -- A Follow Up on Jimgirl's Epic Fail



20.

An advice for couples who have moved in together -- In no way should you allow him to feel left out. Never, ever, let this happen. Defend this cause with everything in your artillery. I know this is the kind of default wisdom that goes well without saying, and I could be a fool for stating the obvious. But for the most part, we overlook the obvious, and fail in its consideration, when one of you starts sleeping in the sofa. And you do this for weeks on end, because you claim it's suddenly much more comfortable to sleep in the living room.



21.

You know what they say,

"It's not the size that counts, it's the performance."

People who say this have needles for dicks, don't get hard enough, cum early, have massive penis envy, and they wouldn't know foreplay from a hole in the ground. Size does matter. We remember the girth more. Get over it. Get enlarged and, in consequence, a penis to match your ego.



22.

I can probably outdrink some of you now.