**He used to be called Jimboy, when he was still dating that showbiz novelty they call Mahal because, I suppose, he wanted to be famous by association. Poor choice, though. Of course they broke up, and you'd think that was that, but he did a Bebe Gandanghari number in The Buzz last Sunday; he finally came out of the closet, and he was in drag. Blech, it was a pathetic repeat of awful showbiz history, and it was just bad shit.
**And it is my self-imposed responsibility, duty if you may, to report and make fun of this bullshit that is called Jimgirl. Super crap calls himself that now, and I wrote him this letter.
Dear Jimgirl,
First off, I just want to let you know that you're yesterday's bad news, you cheap piece of suck-up, no-talent shit. You're not a celebrity, not even close, so don't tell us you missed show business. Your knee-high, quarter-famous¹ ex-girlfriend, that dwarf you stepped on in your pathetic attempt at social climbing, she barely cut the fame cake. And that's not for lack of practice, either; she had this nightmarish full frontal video clip where she was taking a shower. Disgusting stuff, really. And that's coming from me. I grew up watching those Faces of Death videos, and I was practically desensitized. That video of your midget benefactor, in all her godawful nakedness, had more horror in it than the one with this Japanese guy eating shit with a spoon. God, that takes me back.
The only thing proper about that interview you did last Sunday was the timing. I mean, it was Halloween, and it would have been swell and dandy if you were in drag for the publicity. But it turns out that you were in drag because you're an actual fag, and you're not kidding. Funny, you're wearing that bonnet, and you're not kidding? Anyway, there's nothing original with the coming-out-in-drag gimmick. Somebody beat you to it. And it stagnated his already rotting career all the more. He had movies, and an Imdb page, and a Wikipedia page, and a lovely ex-wife who was more prosperous after the divorce. He came out in drag, and that sinked his Titanic. Meanwhile, the height of your popularity was your name in a bad song.
♫Piolo, Piolo, I love you. ♫Aga, Aga, I like you. ♪Jimboy, Jimboy, I hate you. ♫Eh kasi naman, niloloko mo ako.♪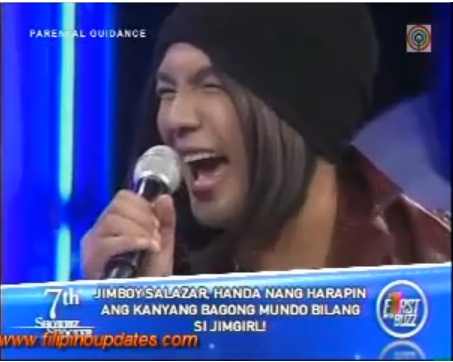 I'm sure you practiced for that "exclusive interview." You even dressed for the occasion, poorly if you should know. But you can't cry on cue. That One Close Up was critical, and you let the moment pass with this painful attempt at shedding a tear. Which didn't happen. We knew you were faking it right at that moment when you started to look like somebody punched you square in the nuts. But, nope, no tears. Your badly done make up was run-free, and it could have used the character that those "tears" will provide. That's a shame, really, because you were none the prettier anyway.
That interview with The Buzz will not help you none. Well it helped you become the butt of our white hot loathing, but aside from that, there will be no benefit in your behalf. It was just thoroughly pathetic, if you should know. Furthermore, I don't think that what you earned from that TV guesting will be enough for a beauty parlor. You might as well revive your role as a parasite and look for a midget sugar daddy in show business. But that's a bad idea, I gather, because the novelty of dwarves in show business died out in the 90's.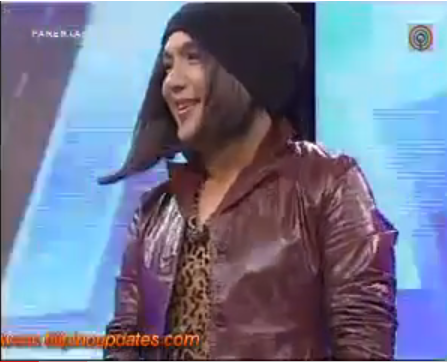 Your coming out in The Buzz will not help you none, so here's a thousand-word picture I promised for consolation.
¹I can't say semi-famous, that would be telling a lie. And I used that to address proportion.