**I have been nursing a broken heart these past few weeks. And I believe that it is time for me to say this, and I say this on a spiritual note --

Tama na yang bwakanang syet na drama na yan! I-kampay na to, mga punks!
**My hearts too smashed and I need a fucken drink! There is therapy in moderate alcoholism, but be sure to have friends with you. Drinking alone plain and simple sucks, and nobody should be left to doing that unless they're hardcore alcoholics with no social life.
**Meanwhile, these are but playful advice, to be taken with a grain of salt (not to be taken literally). I just happen to have something to share about this most darling of vices, and I went through a lot these past few weeks.

"A lot"

can also mean to say a lot of alcohol,

and it supplied enough comfort that I felt I should do something in return. So here's this list.
**The title was modified because I suppose it makes better sense, what with your darling input and all. Cheers you lovely punks!
1.

Don't count the number of bottles of beer you've had. That's something a macho-posturing teenager will do.
2.

If you have this nagging secret you've committed to taking to the grave with you, then don't drink in excess. Alcohol lubricates the jaws, loosens your restraint, and it encourages you to talk it all out. The tears are optional, sure, but the secret will spill, by and by. I know this guy, this gay guy from CDO, who could've remained in that closet if only he hadn't kissed that guy in public because he was too drunk.
3.

Use a jigger for good measure. Seriously. I'm a "hard" drinker by choice, and whoever came up with that piece of glassy convenience should be knighted, or canonized, or run for public office.
4.

If you prefer doing it "a la tambay," where everybody plays left in this circle with this one jigger, and you feel you've had plenty, then learn to pass. If you're not man enough to admit you are officially smashed, then give yourself a break. Take a breather. Walk it out. Take five. But do come back to your drinking circle because your fellow "tambays" will think you've folded. And that's the last thing that a macho guy like you wants to happen.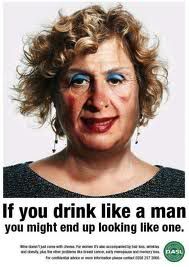 5.

If you prefer doing it "a la tambay," where everybody plays left in this circle with this one jigger, and you have pulmonary tuberculosis, then get your fucking hands away from that shot glass! Motherfucker.
6.

Alcohol in is alcohol out. So if you feel like taking a leak, then stop holding it in, piss it all away, and praise the Lord because you now have room for more alcohol!
7.

Alcohol dehydrates you, and a glass of water from time to time helps. This works best after you've had an alcoholic piss.
8.

Yes, you can use cold water as a chaser. Don't be such a faggot.
9.

There was this one early morning in 2003, I think, where I shared a bottle of "gin bilog" with two "barangay tanods" (citizen watch). See, I also wave and say hi to the poor people "din." Anyway, they sliced 15 pieces of calamansi, squeezed the juice AND the seeds into that bottle of gin, took out a shot glass, and played left. There were three of us, and there was more for me. That shit tasted like hellfire down my throat, and I would far rather die than play left to that concentrated venom.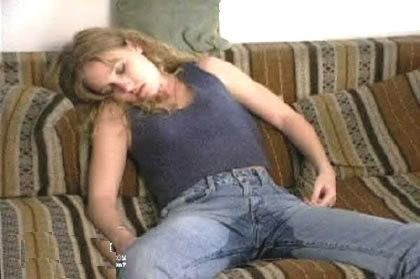 10.

Don't drink to impress. I remember this one time in college where I was late for a drinking session with the "cool people" of 3-C Mathematics. I wasn't much of a drinker then, but I was courteous and spilled with etiquette, so I took that tall glassful of gin-pomelo and gulped that mess bottoms up. I wanted to make up for lost time. A few minutes later, I started seeing black spots ahead of me, I was seriously getting dizzy, and my stomach was suddenly disagreeable. I walked to the bathroom in a series on unbalanced steps, closed the door behind me, and I passed out.
I remember waking up to the smell of vomit and seeing one of my classmates looking in from outside that small window. I was lying down the white tiles of the bathroom floor. He shouted something that had my name on it, and in a few minutes, or years, somebody unlocked the bathroom door, carried me to bed, and wiped me clean with a warm, moist towelette.
The humiliation didn't stop there. I woke up a few hours later in this screaming fit of curses. I stood up and started foulmouthing everyone, walked to the bathroom, and went back to bed with my cursing mouth still on its loudest. I then heard her mother shouting back, "Hoy! Tigilan mo yang pagmumura dito sa bahay ko! Iinom-inom ka, hindi mo pala kaya!' (Hey! Stop cursing in my house! Stop drinking if you can't hold it in!)
That woke me up. And the most that my courteous person did was to apologize in shame.
To this day, I still tell my friends that I don't drink gin no more because its too "squatter" for me.
11.

I never bow my head down while drinking. This is more of a superstition than an advice, though.
12.

Practice makes perfect. Form a Saturday Club. For Bloggers! Yeah baby.
13.

If you, my darling punk reader, have some advice or tips on drinking, then please drop me a comment and let's improve on this list.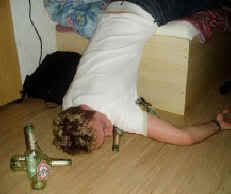 14.
"I take cold water as a chaser, probably the wisest advice by a pechay friend. And refrain from fatty/salty pulutan.

-- Orally"
So it's got to have a temperature for darling results? Check! I'm sure there's a scientific explanation behind the preference. But I don't do scientific here unless its about a perverse sexual act. Thanks Orally!



15.
"Eat a banana. No pun intended, as in a banana. My teacher said it keeps the alcohol from going back up.

-- Glentot"
Ohh I loathe that feeling with a passion. That's because it's just a second away from complate and utter humiliation. Bananas. Got it! Thanks Glenn!



16.
"I learned from Y Tu Mama Tambien that beer is the best cure for a hangover. It's true!

--

Pat

"
Again, this sounds like one of those crazy ideas that actually worked. There's something about this idea that I just postively adore. Thanks Pat!



17.
"I once heard you can eat a tablespoon of butter before you drink. It supposedly coats your stomach so you don't get drunk easily. --

Neil

"
This actually makes sense, but I'm not one to eat a tablespoon of butter. It's fattening, and it tastes weird on its own. Thanks Neil!



18.
"Eat something oily before you drink. --

Barry

(an offline friend who ran and won the National Presidency. I kid. He could be a stunt double. I kid.)
This makes sense, most especially if you're looking at Neil's Butter Rule. I'm thinking of doing research now, because I'm a gay nerd, to address the science behind these additional advice. But I don't do research unless its about a perverse sexual act. Thanks Barsz!



19.

Thanks again for the input! Keep those darling advice coming, you lovely punk readers!