Those LitWit Challenges are writing contests in
Jessica Zafra's blog.
Ms Zafra will ask her readers to write the story behind a certain picture, something that doesn't use adjectives, tell the story behind this song, notes to your ex, a story consisting of dialogue, the story of your life, etcetera. Winners get books, or cocktails, or
a meet and greet over cocktails with free books.
Entries are comments with a strict word count and are still subject to amendments, however she sees fit.
You should read the kind of entries those darling nerds throw in. The competition is just intense, to say the least, and what makes it better is that

Ms Zafra takes the time to critique each entry.

It's not just a contest, though. It's also free writing lessons.You, my punk reader, should submit something if writing gets you hard.

I suppose I just plagiarized myself; the preceding paragraphs were taken from my Winning the LitWit Challenges Page, but I authored everything in this dump anyway. I reckon there's nothing wrong with that. Anyway, I once asked Ms Jessica Zafra if I can endorse her LitWit Challenges in this here blahg of bull, and she said yes. You can read about that meet up here, but for now, I have some unsolicited promotion to do. And
this explains why I've been posting my failed LitWit submissions recently.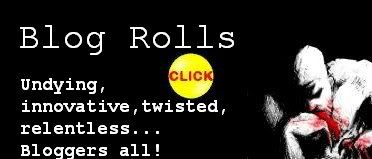 Meanwhile, I have prepared this other post that was designed to masturbate your egos. Yes, I'm referring to you, my darling punk, in my blogroll. You ain't there for show. I have prepared this post that enumerates the writing strengths of that exceptional population in my blog roll. Well, most of them anyway, but since my blog roll has been flourishing with such wonderful additions, I have proposed to postpone its publication because the research is a fucken drag.


Watch out for it though. Anyway, on to the challenge.



Any ideas yet? Yes, she accepts entries in Tagalog, but you will need to register for a username. Which you can accomplish in two minutes tops. Again, my darling punks, the deadline's on 11:59 PM Monday, January 24, 2011. I can't even begin to describe that feeling of inspection and comparison when you have that entry submitted alongside other brilliant write ups. That funny Glentot knows the feeling. He has submitted twice.



Again, my darling punk, if writing gives you a raging hard on, or makes you wet, it's a gender specific metaphor, then try to submit to the LitWit challenges. Good luck!




Here are the instructions on registering:
1. Go to www.jessicarulestheuniverse.com
2. Click on the title of the latest LitWit Challenge. It's 4.5: Bed of Nails this time around.
3. Click on the LOGGED IN link. It is directly below the Leave a Reply line.
4. You will then be prompted to login with a Wordpress username and password. Nope, don't cry yet. There is a link that says Register. This is directly below the check box for Remember Me.
5. Follow the bouncing ball. It's tiring to enumerate the following instructions on account of they are mostly self-explanatory. And besides, hindi ka chicks. Malaki ka na.