**
Forgive me God if I made You look like an Idiot.

This was a passing fancy, and I swear that I commandeered my highly decorated adjectives to fall in because I was trying to make You look way cool at the same time. Meanwhile, there is a lesson to be had in this failed composition. And that goes out specifically to us bloggers.
On the eighth day, God created the Ego.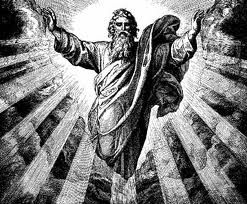 But He left that project alone, neglected if you may, because it was an utter waste of Divine energies. There is no advantage in the Ego. There is no benefit in owning one. An ivory elephant, in all its beauty and grandiose upkeep, will still have its share of beholders and admirers. Meanwhile, the Ego will have a steady fan base of one, and it will be just as expensive to maintain. Furthermore, God found out, because He is all-knowing and all-seeing and all that wonderful Goddishness, that the Ego is a devilish catalyst to unbelievable feats of pride and shamelessness that he completely abandoned that insidious undertaking altogether.
He then remembers that, like Hayden Kho, the Ego was the Devil's idea anyway. The latter suggested this "wonderful innovation to your most intelligent creation" on the seventh day. They were chillaxing then.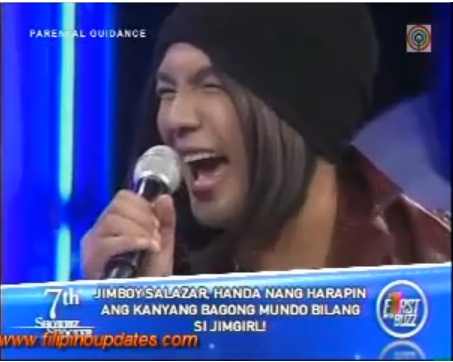 And so it goes that God discontinued the Ego and designed its destruction. He thundered this awful pit, and buried the Ego along with several of his major disappointments. These failures include Mahal's ex-boyfriend-turned-tasteless-drag-queen Jim Girl, that talentless scourge to Filipino Action Movies named Mikee Arroyo, his parents, the Ampatuans, the as-duplicitous-as-she-is-over-acting Mariel Rodriguez, and the PCOS machine. The aforementioned clawed their way out of this fetid prison, and, by and by, became Embarassments to the Proud, "Tabo"-Wielding Filipino people.
The Ego was left alone in that dreadful pit. It was then tangible, but, because it was this limbless mass of curdled pus, it had nothing to employ for its salvation. It died in that pit, and God was relieved.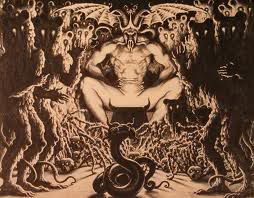 But the Almighty was not taking any chances. Several of his greatest disappointments have escaped and are destined to raise hell in the Philippines. He then commissioned the Devil to take the Ego's remains so it can burn forever. "Trash the damned thing," the Almighty boomed, and in consequence, the Ego was the first officially Goddamned thing. Now, in what can be the rarest display of obedience, the Devil complied. But he was then busy planting fixers in the Department of Foreign Affairs in Pasay City; those motherfuckers are as old as time if you should know. He was, then, too distracted to pay full attention to his ordained office that he took to his duty half heartedly. What the Devil did, though, was that he took this handful of brimstone and emptied his palms in the Ego's grave.
The Ego burned, for sure. But it was a mistake, an Almighty mistake, mind you, and by their very nature, mistakes linger. It turns out that the Ego, like sin, cannot be completely disposed of. It burned, sure it did, and it was a massive heap of black ashes by the time the brimstone had performed its appointment. But it didn't perish in the way that dead things stay completely dead. Because there was movement in the midst of the Ego's pitch black remains.
The Ego's divine architecture was moving to the whims of an infernal blueprint. It's ashes squirmed in this hideous dance, the Macarena, as it took this familiar shape. It looks as if, no, it was turning into what looked like God's greatest, vainest creation.
The Ego's ashen remains became human. But it's conception was damnation, and it's engineering had such detestable influences. it's thought processes were wired with an affluence of pointless bitchfits and rhetoric nonsense. Furthermore, these were reinforced by this unprecedented degree of self-entitlement and a knack for shameless self-promotion. And it was armed with this most curious artifact, an HP laptop that came with this intermittent DSL connection because it was powered by Globe. And it had a Google account, too.
Alas, from the Ego's rot was born the first blogger.
====================================================================

This was another failed entry for Ms Jessica Zafra's LitWit Challenge 4.3. The task was to create a story about Metamorphosis, and this is what I submitted. It didn't win because it was profuse with the adverbs (bad habit, next to too much adjectives), and I made God look like an idiot. And my love life's still a defeated mess. Five years down the drain because of some goddamn... But I suppose this submission is relevant enough for publication. At least in this here blahg of bullshit, where most everything of bad taste is relevant.
**One of the many reasons why I keep submitting to Jessica Zafra's challenges is because of the feedback. We can all use a writing tip. And more practice. And a banging sex life. And zero transmissible diseases. Again, this is all fiction, so don't get your panties in a fucking bunch.