**I won me my fourth LitWit Challenge, rock and roll, and the trophy book was a collection of Lydia Davis' Complete Works. What makes this grand, far more, was that Jessica Zafra herself awarded the prize book over coffee. Isn't that just darling? Sure, I was tied with this guy, Cacs, but his entry was just positively brilliant, so I didn't mind sharing the limelight with him.
**This post narrates just about most everything that happened on my second meet and greet with the Mistress of the Universe. Enjoy! Oh and before you read this post, be sure to have a handkerchief laced with strong ammonia with you. The last part almost made me faint.
Getting There
I woke up well rested to nine hours of sleep that day, and I felt so alive and so energized. I was fresher than a goddamn scandal. I had lunch with my funny gay friends, got the digicam, took a nice bath, and had my hair curled. I had an angry infestation of zits that day, and I need to look nice elsewhere. Because distraction is key.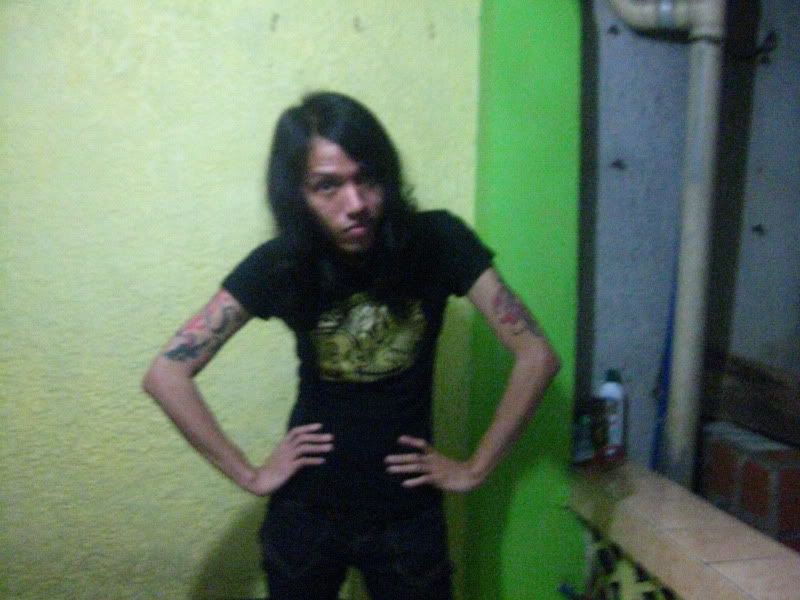 I felt amazing on the way to our assigned rendezvous, The Cake Club in the Powerplant mall in Makati. It was about three in the afternoon then. The clouds were fertile with threats of rain, but I was walking on sunshine that day, and the fresh curls on my head bounced with each half skip half step I made towards The Cake Club. I was Tyra Banks with pogo-stick heels, and I was fierce with excitement.
The Cake Club, Finally
I was thirty minutes late when I got there, and I'm blaming the curls. And, to make things far more un-cute, I can't seem to find that infernal Cake Club. But then I heard my name, looked to my right, and she was looking at me with her fingers pointed towards my lost person. There she was, the smiling Mistress of the Universe, and my curls loosened up and went out of place. Her awesome presence blew away all that preparation to look darling. And I was just approaching our table then.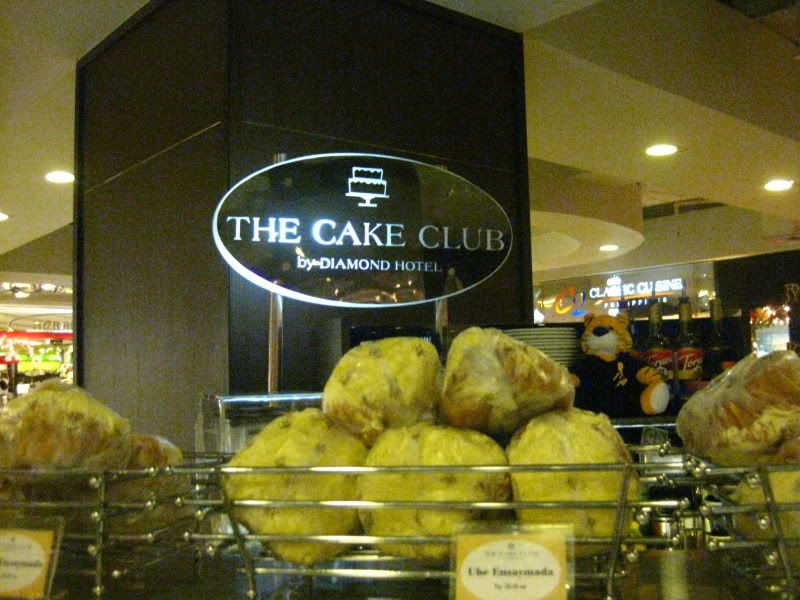 I went "Hi Madame!" in this distinctly homosexual inflection, and I felt at ease.




The Things We Talked About!


There were three of us in that table; we were joined by the brilliant Cacs. Yes, there were two winners, and they were both clever wits in their own rights. The gay jerk submitted a story, The Harlotte Champion is at Stake, where he bashed the Gym Bunnies and the Discrete Bisexuals. The straight guy was also a winner with his entry, The Remainders, and it was fantastical science fiction. Yes, Cacs happened to be straight, and I happened to be thrilled at the presence of a straight guy in these meet and greets. Who knew straight guys read and subscribed themselves to the schemes of the Mistress of the Universe? This weird world of nerds is interesting.
From Left to Right: Cacs, Freddie Aguilar, and the Mistress of the Universe. Those earrings are made of emptied

Mighty Bond

tubes, if you should know, because her site's big on rugby these days. Get it? Meanwhile, she had a bottle cap ring on her right hand and a colorful skull ring on the left.


Our conversation was salt and peppered by the participation of a foreign gender in the table. It went this way and that and was altogether interesting! We talked about a lot of most things that you can squeeze in two hours -- two meal a day rugby players, BENCH-sponsored rugby players, rugby players and their short shorts, well defined crotches and why they fetch 300-plus comments, beautiful men and women, making money with graphic novel apps, Ricky and Raymond Lee and how they're not brothers, the rules of rugby, that boring disappointment that is The Deathly Hallows Part One (boring and disappointment are totally my words), Inception, Cacs' The Remainders, John Lloyd Cruz as Kumander Dog Lock, Ely Buendia, Atom Araullo and those crow's feet, Roderick Paulate, The Catch and The Game, her National Bookstore sponsorship, endorsing the LitWit Challenges, the Romea and Juliet-ness of some gay jerk's love story, and the Mistress of the Universe's funny twisted way of dealing with a broken relationship --she wished he was dead!


I had a cafe au lait on this beautiful white mug, and it was a good thing mostly because I wasn't paying. The Mistress of the Universe is most generous.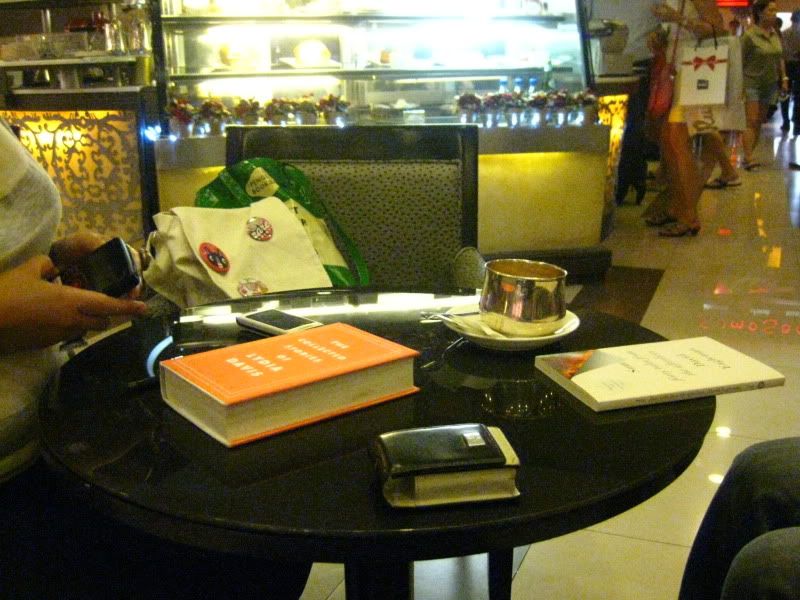 It was an brief affair, as lovely and darling as it was, and it lasted no more than two hours. She signed our books, had a few pictures taken, and the day ended with that incredibly firm handshake. But the most unexpected thing happened after that. And this is where you'll be needing a handkerchief that's laced with strong ammonia
I Made Beso with Jessica Zafra!
We were walking towards our respective exits, and we were about to break the party. And I should say that It's a downright blessed thing that I have enough years of practice as far as this polite nicety goes. I came prepared, but I almost didn't know what to do when she raised her cheeks in that familiar gesture. I was pleasantly surprised and nearly fainted at the same time. Of course I obliged!
The beso felt like oily cheeks, mine, and it had this curiously humbling characteristic about it. It was darling, and it was beyond my wildest imaginings, but making beso with Jessica Zafra (I love that line so much, it should be lyrics to a song) was the second most

unprecedented

(never before seen or done) thing that happened to me that day. The first one was when I quoted Mark Twain, my favorite dead author, in an offline dialogue. This also happened to be the absolutely nerdiest thing I ever did, and I was mighty pleased I did because this validated my nerdness.
The Nerdiest Thing I Ever Did
"With a hundred words to do it with, the literary artisan could catch that airy thought and tie it down and reduce it to a concrete condition... understandable and all right, like a cabbage; but the artist does it with twenty, and the result is a flower."
That was the quote I paraphrased. And I did that to address a certain awkward moment. I was pleased, and I can now say, with fireworks and truth to the letter, that I am such a gay nerd. Now if you happen to find that funny, in a discriminating self righteous homophobic kind of way, then let me tell you something on a spiritual note: Fuckk Yow. And I don't care. Meanwhile, I wasn't verbatim on the Mark Twain quote, but it was still the queen of my nerd-things-I-ever-did mountain.
A Daisy of a Picture!
I was singing and dancing in my head when I went home that day. If sunshine had a smiling face, then I will be its homosexual picture at the back of that taxi cab. I was busy reviewing the pictures I took on that meet and greet when I remembered to read what she wrote on my prize Lydia Davis book. And so I did, and what I read was just too darling for words. By the same token, it will overwhelm a thesaurus, so let me post a picture instead.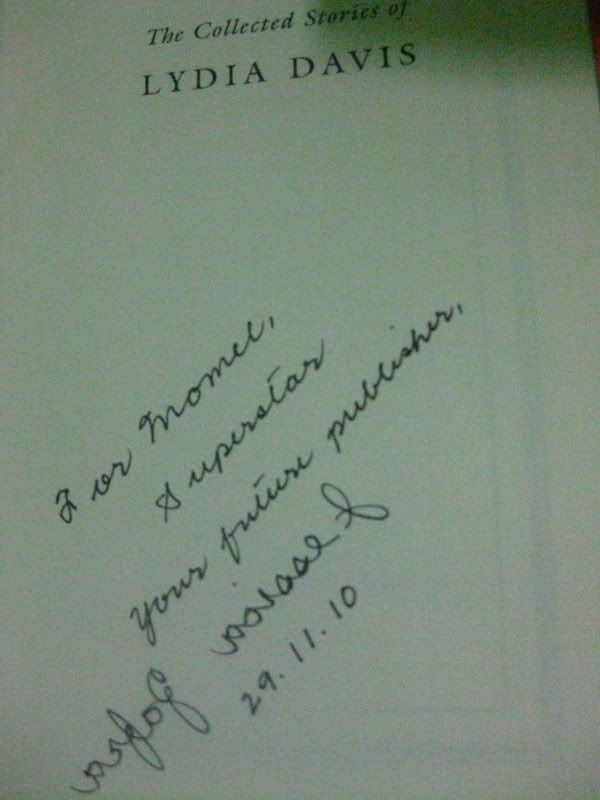 And On a Final Note
Again With That Smile!





Candidate on the left is a gay jerk who is in another picture with one of his greatest literary influences. Candidate is suffering from a mild to severe case of

star-struck-ism-ness

(idle linguists should improve on that word, that "condition," and make an official dictionary entry of it). Condition is potentially damaging to subject's over-smiled mouth; the worst case scenario will require stitching. Simultaneously, gums are suspect to over-exposure and may require treatment unless photographer decides to finally take that picture already.





Further investigation into this condition indicates that subject doesn't mind the

fuglifying

(further uglifying) effects that

star-struck-ism-ness

causes. His happy hormones are reported to be at a record high under such attacks and, in effect, defeats the occasional fits of vanity that subject has admitted to sufferring.