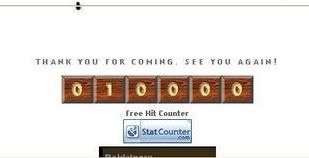 Sometimes, a picture says it better.
Thanks guys for making my first ten thousand hits possible. I'm still thinking of what to write to

a. commemorate
b. celebrate
c. immortalize
d. remember

(insert answer) the first 9,999 hits and what, or who, made them happen.

Of course, I'm referring to you people.

And thanks Third for the screenshot. Priceless!
Related Links:
(It's not my birthday, but allow my Excessively Self-Promoting Self to surface at least just today.)
Heartwarming-est
You Know How to Scratch My Itch!
Updates for my First 3000 Hits!