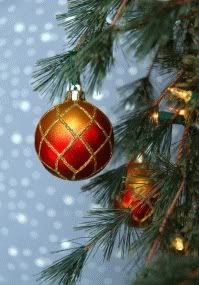 I've been burning discs like a fool on a mission since we had the broadband loving going on at home. What used to take 20 minutes to download on a better day on dial up now takes about less than two minutes on broadband. I'm telling you, 2006 has never looked this promising in any given third world country. Yeah, I'm saying that during the last quarter of the year. That's done on purpose, but that's not the point.
And it is in the holidays-specific spirit of music PLUS our current insane download rate that I'm preparing my Christmas playlist. In October. What can I say, I was raised to embrace the spirit this early on. And in this country where Christmas starts as early as November and ends somewhere during the first week of January, I don't think you can blame me for being this excited. I don't think YOU can blame yourself either. And, being blessed with the current download rate and all, I went on my happy sleighbell ringing self and launched the download button.
So here's a sort of compilation of the songs I have queued in Limewire. Feel free to take suggestions as you please, but I would love it if you guys can vote for at least three of the better Christmas songs which, as the title implies, sets the mood this early on. I'd love to create the most rocking-est Christmas Playlist as early as November.
All I Want For Christmas Is You - Mariah Carey
White Christmas - Bing Crosby
The Christmas Song (Chestnuts Roasting On An Open Fire) - Nat King
Cole Do They Know It's Christmas - Band Aid
Jingle Bell Rock - Bobby Helms
Rockin' Around The Christmas Tree - Brenda Lee
I'll Be Home For Christmas - Bing Crosby
Santa Claus Is Coming To Town - Jackson 5
Mary's Boy Child - Matt Monro
Winter Wonderland - Peggy Lee
Rockin' Around The Christmas Tree - Mel & Kim
Have Yourself A Merry Little Christmas - Jane McDonald
O Come All Ye Faithful -Stacie Orrico
Jingle Bells -Les Paul & Mary Ford
Do You Hear What I Hear -The Cliff Adams Singers
Joy To The World -The Choir Of St Paul's Cathedral
Hark The Herald Angels Sing -Harry Secombe
Yes, that's Limewire and not Itunes. See, it's okay to not have an IPod yet to hear these songs. You don't need an IPod to hear these songs. It's the Christmas spirit that matters. And, being increasingly materialistic these past few years, the Christmas spirit tells you to go on ahead and burn your thirteenth month pay on an IPod.