It's either I have too much time, or I just can't let go of another favorite childhood memory.
1. There was this episode where Annie was shot with her yellow panties in a mid air leap. That one little episode would arguably be the most remarkable for it shaped a lot of young horny bastards barely out of their foreskins.
2. Does anyone remember the Shigi-Shigi Strange Song? It's this disturbing theme music cued whenever Fuuma Lei-Ar weaves his evil in Tokyo. That's the same song we hear when he breeds yet another beast for Shaider to play with. It's strange, it haunts, and it is still recognized more than a decade since it first aired. As a matter of fact, I have this friend who have it as a ring tone in his mobile phone. I have it in Limewire.

Click here for the lyrics. Yeah, lyrics. You probably memorized the Voltes V theme anyway.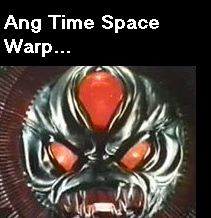 3. Lei-Ar has two memorable however overly made-up minions, Poe the God Officer(or Iga or Yda or Ida in the Philippine dub version) and Commander Hessler (or Drigo in the Philippine dub version). These two loved headdresses like it's nobody else's businesses. She had this oval-ish disco ball with horns sticking out both sides; his was urn shaped, had red streaks for drama, and had a square opening for his face. And did you know that Yda (or Iga or whatshisname) was really Fuuma Lei-Ar's transvestite grandson? Yeah. That's right, trans-ves-tite. Grand-son. How did I know? Internet.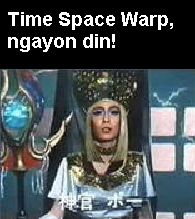 4. Here's how our favorite hero usually goes for the kill. Shaider finds Ugly Strange Beast after twenty minutes of investigation in a thirty minute program. Ugly Strange Beast escapes into the Time Space Warp which exponentially increases it's evil powers by a freaking mile. Shaider pursues Ugly Strange Beast in said dimension where Ugly Strange Beast opens up a can of whoop-ass on said super-promoted Space Sheriff slash Metal Hero.

He suddenly gets equipped with the insanest arsenal of Ugly-Strange-Beast-Ass'-Kicking Gear. This includes the Blue Hawk, the jet thingy, and that drilling tank something something. And who can forget Babylos? This was their giant spaceship headquarters which turns into a monster-blasting weapon of evil-hating justice. Yeah, Shaider's projected blue image holding the Babylos in gun form was just pure wicked.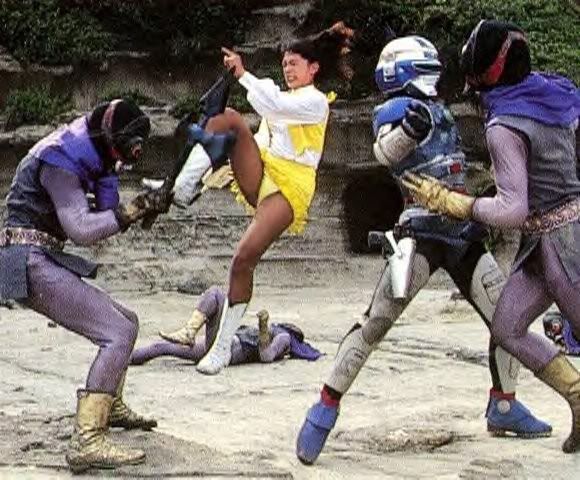 5. Shaider was Alexis in IBC Channel 13, and he was super-promoted from Archaeologist into Space Sheriff slash Metal Hero. Annie just can't be his girlfriend; she's just too baduy in those yellow, I dunno, chalecos?

He, on the other hand, looks just too delectable in those tight white pants.


6. Tokyo's almost always abandoned when Fuuma decides to go wickedly cruel on Sunday afternoons, just thirty minutes after Bioman. Yeah, we'll miss the original Yellow Four, but not as much as Hiroshi Tsuburaya.


Kamakaila'y nalungkot ako sa natanggap kong nagbabalitang patay na raw si Shaider. nalaman kong noong Hulyo 24, 2001 pa pala pumanaw sa edad na 37 dahil sa kanser sa atay si Hiroshi Tsuburaya, ang artistang Hapon na gumanap na Shaider."



from JAPAN "LIVE ACTION "HERO

Shaider's dead.

This post is my warm recollection of that Space Sheriff slash Metal Hero.