**Which is exactly what 2010 has been like for this here blahg of bullshit.
Thank you, you lovely darling punk, for being so generous with your page loads, and your comments, and your lurking, and your link exchanges, and your follows. Those gestures are, figuratively, the best ass-fucking that my lonely sex-starved blog needed. You all know I'm a jerk who foul mouths in excess and is generally nasty in all the wrong places. You all know I'm this gay asshole who vibrates the influence and the innuendos with a fury. I'm far too mischievous for your own good, hell, for my own good even, but you punks kept at it until I'm far too sore to even cross my legs.
Fucking A!
Your patronage is like doggie style without the muscle pain, the warm and sticky feel of lube, that faint whiff of alcohol in your breath as you try to kiss me from behind, from where you're kneeling, that curious smell of shit and then the panic that goes with it, and most importantly, the discomfort that takes place when your dick intermittently gets too pumped and then goes out of my hole.
Yes, ladies and gentlemen, darling punks one and all, I just compared your benefaction with sodomy. And I did that on purpose. You know how I work; I'm wicked with my compliments, and I'm mostly in heat.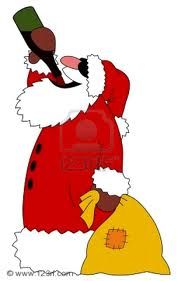 Now, allow me to say this, and I say this with every grateful fiber in my being -- You all rock! Honestly, you do. Keep at it, and try not to be hiphops because they die early, and they're sure to rot in hell with a dead certainty.
That being said, You All Have a Merry Christmas! And may your blood pressures shoot off the roof! That's reverse psychology. You know I love you. You know I care. You shout whenever, and I'll be there. And I really mean the seasons greetings.