**I solemnly swear this is not a sponsored post. Presented for your ultimate spanking sensation - metaphors.
**And I was supposed to do the Breastfeeding in Cabs Story right about here, but I gather I like this post more. Enjoy!
What is the origin of "shit-eating grin"? "a big shit-eating grin"? (My personal favorite, hands down)
What is the oldest phrase in English still in current use? (It's as old as 3200 years. Yes, bitch, Old Testament.)
What is the origin of "go to hell in a handbasket"? "going to hell in a handbasket"? (Powerful phrase!)
What is the origin of "To Paint the Town Red"? (That Sheena Easton song comes to mind.)
What is the origin of "Bad Hair Day"? (First heard in 1991. In the fowking UK. No offense, mates, I'm on a fowking roll, is all. Cheers!)
Because I'm not just sexy and long-legged, I'm also edu-tainment-ional. Ahaha, to hell with that made-up shit. So here's this site you can peruse if metaphors turn you on in a kinky kind of perversely orgasmic way. In case you needed a refresher, a metaphor is to writing as color is to painting (I got that line modified by Jessica Zafra's cat, Saffy), and if we are to maintain this blogging fancy and theirs (throw in the cat), then we need all the help we can get.
Metaphors are to writing as colors are to painting. To put it in another way, a lifeless style does to writing what Filipino police do in hostage taking situations. Get it?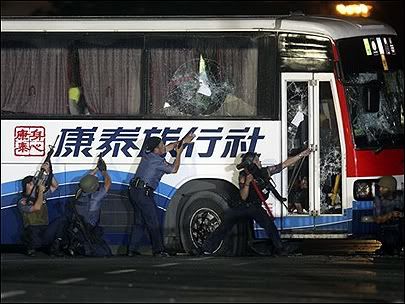 If you want subscribers, then you have no business being dull. Unless of course you find it in your very marrow to rebut any modification that attacks your boring person. Please, be interesting and do figures of speech. Keep your shit tight. You can't be dull and duller at the same time. That would be overkill, and nobody likes that; I'd far rather be flogged with the family cat until I can no longer stand than read you in your tedious entirety. You are publishing your "random thoughts" online; don't tell me you're not asking for an audience. I can see you enabled comments, so stop pulling my long-legged legs.
Motherfucker, it's always "random," and it's always "thoughts," but it's still the same uninteresting mess anyway. One word comes to mind, though: thesaurus.com.
Maybe you can go ahead and bookmark this site(and bookmark me too, while you're at it), learn from it (like shit you will, but please try), and maybe impress the rest of us frustrated writers with your suddenly wonderful command of figurative language.