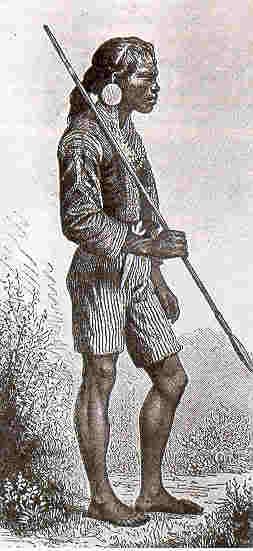 **This is the first time I'm doing a blog review. And, for modesty's sake, I really can't honestly think of a better blog to shine and be such a fag about.
**And if you're straight and horny, I apologize for the inconvenience but I'm still delaying the story behind Breastfeeding in Cabs.
Mandaya Moore

TOPICS:

Lovelife, Crazy and Endearing Homos, "Oh Yeah" moments
LANGUAGE:

Tagalog

BLOGGING SINCE: 2007 (And there are clues that tell us he might be writing earlier than that)

FIRST POST: Bakit Ako Nawala? (Why I Went Missing)

PICTURES? Yes! With occasional pictures of half-naked barrio men in their wholesome jail-free goodness!

POSTS I REALLY LIKED:

1. Sugal (Gamble)

2. Sister DJ

3. Hindi Na Ako Sanay
(No Longer Used To, a prime
refresher on foreplay)

4. Amigas
LINK:
Mandaya Moore

This blog

illustrates

(gay verb) a working picture of the

barrio

(urban neighborhood) and then effectively marries that with the universal appeal of the funny gay guy. I like it because he writes about real things, and it's the kind of biting reality that most of us queers are living. Yes, that includes you.


It hasn't enough drama, and that is exactly the kind of gay blog that we need. Sure, it has its moments (like the Kulot days), but he's killer funny when he's in the mood. And that's almost always. Mandaya knows how to tell a funny story, builds up to the punchline with a series of quick nips and then wraps it all up with


a. a hilarious JPEG (mostly of his friends, Fiona comes to mind, or of his current lover on the infamous Green Sofa)

b. a really funny line


He's very consistent with his style of writing; he's wickedly deadpan. Funny is as funny does, there's just no excuse for it, and the writing is. Just. Perfect. They say a good writer makes you care about what you're reading, and this is exactly the kind of hot shit that Mandaya Moore Orlis is all about. He maintains this excellent writing juju all throughout, which probably explains why I didn't mind reading through ALL his posts. He uses very simple, but effective, Tagalog words in his posts, and

swardspeak

(local gay talk, only in the Philippines) is set to a bare minimum, thank you very much.


He's got this fantastic recall that found the best employment in most of his posts that needed dialogues. You'd think all his conversations were chat transcripts from your preferred instant messaging program, but no. How in God's green earth does one explain that effective remembrance? You have got to spill the beans on that, Mandaya Moore.


I never got myself bored in the research process. But then, in retrospect, it's not much of a research process as it is a hilarious walk in the park. He's all that gay sunshine in your pocket, until I got to this picture of his lover Kulot, and he was waiting for a bus. This was preceded by the termination of their six year relationship. That image stopped me cold in my giggling tracks, suspended all that laughing from his prior posts, and then I was simultaneously sad. I honestly wasn't expecting that, didn't know where that came from, and that's exactly what makes him fantastic.


I can relate to a lot of things that he wrote about (from the lover to the group of friends), and that's what makes it closer to home. Home may not be in the barrio, but it's got that universal two-snaps-in-a-circle type of ferosh juju that makes us gays stand out.