And I'm still wasted from all that good cheer! I just met with the Mistress of the Universe, and what of it? Oh, it was intense!

There will be a dedicated post, soon, written in that signature mental masturbation that you guys will grow to love/hate/pray for.

Meanwhile, meet Richard Hadede. He's my entry to her latest LitWit Challenge, and, of course, a comment from the
Mistress of the Universe.
Momelia: Hysterical! You have staked a claim on the comic-absurdist territory in these contests. While reading this piece I imagined Meatloaf and his giant breasts in Fight Club. Could you be. . .the gay Chuck Palahniuk?!
I don't know a Chuck Palahniuk, but it's Jessica Zafra, and you don't get things like these everyday. I heart it. And speaking of getting things, here's an autograph: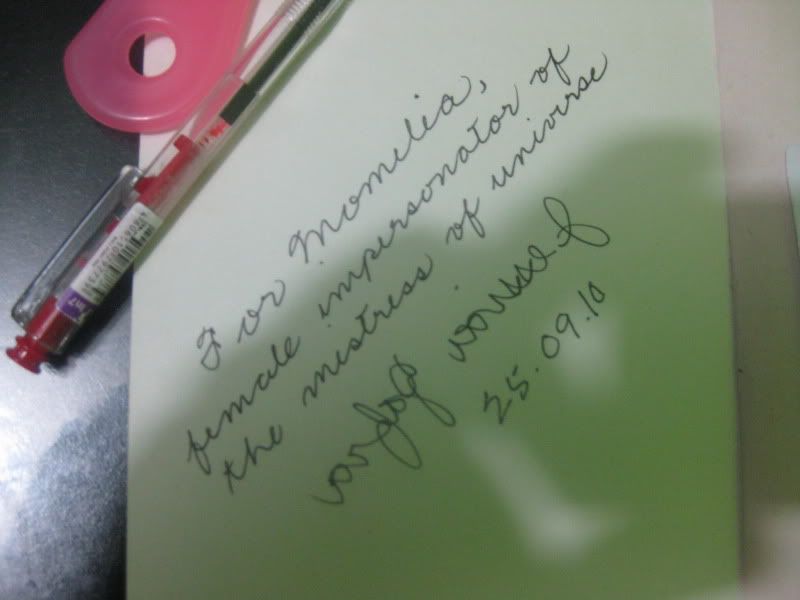 I call myself Momelia in her blog because

"nakaka-babae yon."

Same gay jerk anyway. Meanwhile, this is my new favorite picture now.

Thanks, Ms. Zafra!

I had a blast! And you guys,

QSDN, sad_ism, cochise_miz

--
I totally forgot your offline names, forgive me, but
You. Guys. Rock!