So I entered Jessica Zafra's LitWit 3.6 challenge last week, and we were assigned to explain what happened to that hot dude on that picture to the left. I wrote a love story with cats that speak German, and this is what she said:
Momelia: This morning I woke up with a dry throat and nasal congestion. I went out for brunch, drank three pots of tea and felt better, but by 5pm I had a fever. It went away after a long nap, but my nose was still clogged. Then I read your story and the laughter propelled the trapped snot out of my nose. Thank you! Since you describe yourself in your blog as my female impersonator, then the PK in your story is you. (Amsterdam is not a country.)
PK is Pussy Kamagong, and she's the heroine in my story. That's a porn name.

Again,

your porn name = the name of your first pet + the name of the street where you lived as a child.
I didn't win that challenge, but we (some of her favorite entries) got invited to drinks; I will be meeting Jessica Zafra for the first time this Saturday! I will get shitfaced with the One Female I think I've been sincerely impersonating all this time. It just doesn't get any better than that, noh?
I have won two of her LitWit challenges before, and I'm just saying. And I also call myself Momelia because, and to quote our local vernacular champions, "nakaka-babae yun." I'm thinking of using Pussy Kamagong, too, for the same reasons.
Speaking of gay influences,

submitted herein for your daily dose of crazy fantastic:
Prince Poppycock!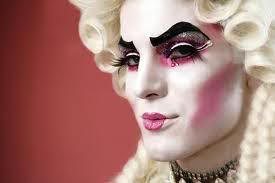 That link redirects to a You Tube video with this amazing, amazing talent. If you have time, go on ahead and watch it, and then in the wake of his brilliance, ask yourself this -- Figaro?
The Next Nice Post is not really a post per se;

I'm referring to the bullshit pick up line that anonymous blog hoppers make for acknowledgment. That usually precedes the self-indulgent "Exchange links?"
Nice Post! Exchange links?
These days, its

"Beautiful, well-written post."

My problem with this up-and-coming cliche is that these comment-farming dicks don't even care to expound. How beautiful is it? Which parts are well written? It's a link to a Sexual Reassignment Clip on YouTube, and I wonder what well-written post you're referring to? I just copy-pasted my Facebook status, "My eyes hurt, my body's sore in all the wrong places, I've been feverish for a week now, and my blood count's awful low;" You think dengue is beautiful? Tell me you don't get what I wrote, but you find me an endearing jerk that you'd like to add me to your roll. I would gladly comply. But give me something vague and saltless and a general waste of space like "Beautiful, well-written post," and it's my finest foul mouthing in your general direction.
Hijo de puta, blogging used to be a creative waste of time in 2004. Now it's just rhetoric whoring.

Credits to Jessica Rules the Universe for that delicious rugby player's picture.