Imagine you are bored, you've got time to kill, you think you can handle a little disappointment, so you went ahead and navigated through your Facebook newsfeed. The customary dumb truck rolls along. There is nothing out of the ordinary with the "I'm bored" Facebook status, the " (insert number) hours of sleep, zzzzz" Facebook status1, the "here's what I ate, and I can't pronounce it much, so I took a picture" Facebook status, the usual pedestrian fare. Nothing out of the ordinary, and then as you are bracing yourself for more hopeless cases, you noticed one particular selfie.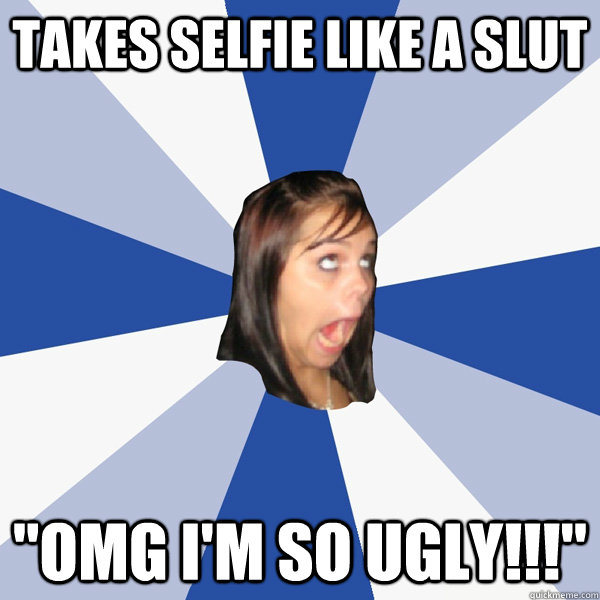 Photo from quickmeme.com
Omg. I'm so ugly. Huhuhu. This "selfie" happens a lot, by the way.
I hate you, fucking poster, whoever the hell you are. See, if you say so that you are ugly, then maybe you are telling it real. I mean, nobody knows you better that yourself, right? You are familiar with your hooked nose, and your cat-shit skin tone, and those pock marks that can grind cheese and meat and flour to make spaghetti. You know that 3'11 height very well, and that wiry hair, and that lazy eye, and your yellow crooked teeth. So you magicked a photo in that familiar angle, threw in the usually exaggerated sad face, post it in Facebook, and caption the uploaded witchcraft with the words "I'm so ugly, huhuhu."
It is a Facebook post. Are you expecting us to Like your admission to being ugly? And then, in return, will you still consider us as your friends? Think about it. We actually Like your confession to being ugly. We are rather fond of it, for sure. We are now fans of your sudden honesty. We never expected you to come clean and concede to your ugliness. We like that you are painfully honest about it. Aren't you going to unfriend us?
Well, dipshit, you said it first, okay? So you can't blame other people who echo your sentiments, "Yes you are." They are your friends, and they're just being sympathetic. Or truthful. Or jerks. Whatever. You started this mess in the first place, okay? If you wanted them to say that "You are pretty," then you should have said "Are my tits pink in this pair of jeans?" Or you should have posted "I AM BEAUTIFUL!" with all the fake emotion that caps locked keys project. Meanwhile, you appealed to sympathy, and gave us a lame ass picture with a lame ass caption. "I'm so ugly, huhuhu."
You cannot tell it straight, right? You cannot tell us that "I AM BEAUTIFUL!" because you Do know yourself well enough to restrain yourself from posting that same status. It would be what is known in court as perjury. So you are appealing to sympathy instead. "I'm so ugly, huhuhu." Fuck you. We in the jury should be punching you on the boobs now. Sideways. All twelve of us.
In your defense, maybe you do have standards. Beautiful word that, Standards. And maybe these standards are what's keeping you from posting that invitation to insult. Which will be your "I AM BEAUTIFUL" status update if you decided to post that in the first place. Underscore maybe; understand that all this talk about Why you can't post "I AM BEAUTIFUL" is nothing but speculation. Speculation meaning I'm not sure. But I have a suspicion. Which is almost always right. "I'm so ugly, huhuhu."
Photo from memegenerator.co
Having said all that, bear in mind that I get your retarded psychology. No, it could have been reverse psychology, but you are not capable of that. And, I should apologize to the clinically diagnosed retard; you guys are not capable of such shallow self-promotion, but I have a point. What you are doing, you stupid cunt, is that you are appealing to the sympathy of your friends.
These comments or likes are feeding your misplaced narcissism, and it's not healthy. You read those comments, and you feel better because they are, in some sick way, validating what you think Has to be right all along. You can be beautiful. But honey, the truth is, all this wrongful narcissism, all this criminal vanity, all this obsession with self, all that? It's not a pretty picture, and that's exactly the kind of selfie that you are posting.
You can be beautiful? Well, judging from the number of people you have in your network, and factor in the number of courageous comment-ers, it looks like you can be a likable person. You can be beautiful. But it's the "inside" kind of beautiful that most ugly people are advocating. And who the hell gives a shit about that?
1
Credits go to my funny friend Erlyn for this.