**Alternate title:
Titi Mong Garabucho-oh woh
**The problem with my once-a-week updates is when I'm itching to publish my unnecessary say on some current hot item. But I cannot. Because I am far too lazy, and sexy, to be writing something impromptu about what everybody else is trying to be smart about. Two weeks ago, Chito Miranda, of Parokya ni Edgar fame, thrilled nearly everyone with his far from fascinating fornicating feats. A video of Chito's penetrating powers leaked, it was posted on The Internet, and nearly everybody jerked off to Neri Naig's hanging tits or Chito Miranda's "un-Filipino" penis. Four minutes later, everybody climaxed and went back to their pedestrian Facebook shallowness (i.e. Selfie.145926535halfofyouwontgetthis8979323846).
I was honestly revolted by that scandal. I had to write this down.
They turned the lights on, but Chito's dick looks like it was left in the dark. It wasn't even a dick. It seemed to me that Chito Miranda has been fucking Neri Naig with some root crop that he pulled from the soil. That dick. That dick. Oh Jesus, it was as black as sin. It was, for a Filipino, hardly erect. It was, in a word, unsuckable. And that's tough coming from a hardcore fan gay.
Neri Naig looked young, but her breasts gave her away. Those breasts have the quality of a pendulum. They were pendulous breasts, and I hardly wondered why she allowed herself to be fucked for viewing pleasure. Those pendulous (I love this word) breasts have gone places; her tits pointed south, but that pair of veteran, well bitten boobs looked like they have been cupped by more hands than one. They were so everywhere, they have their own frequent flyer miles.
And that's just her boobs. I won't talk about her cunt. That's a gay man's Great Sandy Waste.
Anyway, Chito, here's what I think. Yes, I am addressing you by your first name because, as a gay fanboy, I think I knew you. Yes, I am addressing you by your first name because I know I can get away with this "feeling close" moment; you will never read this blog anyway. It took you twenty something years to establish that shimmering rock star status. It took you guys two decades to build such a loyal following of music-buying fans. You guys penetrated the local music industry with signature songs whose clever lyrics ranged from the funny to the romantic. And then a seven minute video leaked. And it succeeded in single-handedly (or fingered-ly, or tongued-ly, whatever) warping my near-idol worship.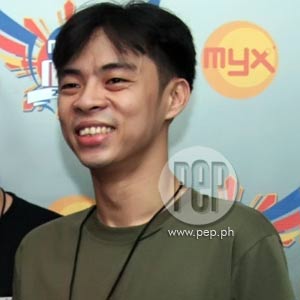 Your chinito eyes, and the uneven teeth, and the hair that's usually parted in the middle was the wholesome face that sang my adolescent insecurities away. And, recently, I saw that face bury itself in pussy. Sure, I get it, sex drugs rock and roll; you guys are living the life. We already know. We have an idea. But do we really have to see all three in a video? In amateur action?
Some things cannot be unseen. Most especially when such images involve a personal hero involved in some lousy fucking. Ew, that dirty dick. Ugh, those pendulous breasts. But you know what, it doesn't matter to me anymore. Honestly. Your songs are better, waaaay better than your penetration. And your songs are why I'm still a fan. Of your songs. You sang about the suicidal Buloy and his dog Morlock. You sang about garabucho lips in your song Silvertoes. You sang about guys being in love with their pare; you shined for the homos way earlier than Erik and Vincent did. You brought Mr Suave to life. Your songs are the best in Pinoy crazy, and it doesn't matter what garbage will be blackmailed out of you.
Your songs are your redeeming factor. Maybe you can sing this scandal away?