**If you can find it in your hearts to kindly choke on this, please?


If quoting makes you cum, then go for it. Do it again, and again, and again, until you're pronounced dead by ejaculation. Quote to your satisfaction, but remember to credit your sources.
--I said this first, as far as I know. I Googled this goddamned light bulb moment.
It's so easy to echo what second hand words of wisdom you just heard or read somewhere. And it's just as easy to capitalize on somebody else's experiences, lump it in a weak phrase, and then pass it off as your own. Almost everybody else is doing it, everybody with an unhinged ego trip that is, and I am, quite honestly, ladies and gentlemen, getting really bored.

I can always let it go, of course, because its the same hand me down inspiration from the same dull people. And it's the same unyielding persistence of people who don't have a point, really, that gets to me. I can always hide their posts from my news feed, but I'll run out of material to bash. I can't call it a love-hate relationship. It's parasitism with a suck-my-dick attitude, that's what it is.

What I'm saying is that I can always let it go, or they could always die first, but I'm

enjoying

this secret pleasure one can only have in bashing. The letting go option, I suppose, may not happen.

Why is why I am proposing a suggestion, instead. Choose your wisdom and get it tattooed. Ink, needle, blood, antiseptic. Stick to it. At least we know your message goes across -- you really mean what you say. You can say it everyday, and you can reinforce your new found understanding with amazing visual aids. And you weren't just having a fit of plagiarism.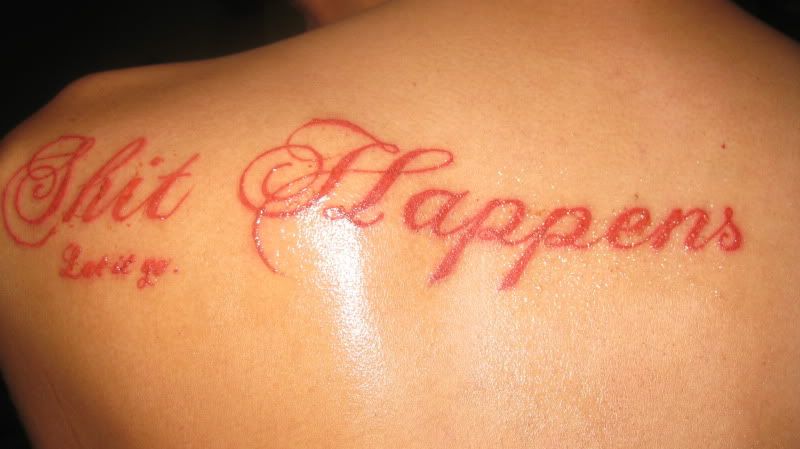 Shit Happens. Let it go. I wish I could take credit for this wonderful philosophy, but at least I mean it. And I live by it now with the loyalty of a bad ass lap dog.

Now that I think of it, the authors of my Anonymous Comments can use the same message. Let it go, love.

P.S. I will be having my meaning of life tattooed this September. There will be blood, needles, and pictures

.

I am suddenly possessed of this familiar need to fill skin.