**This here is an undistilled, but edited, thank you of sorts.
I've always been conscious of my stats. And what makes it ironic is that I don't blog hop as much as I used to in 2006. I no longer advertise. I no longer promote. I don't see the point because my ego's as big as my brownish rabbit-shit tits anyway.
The only endorsement that this blog has been receiving for quite some time now is through my Facebook posts, my comments on Ms Jessica Zafra's blog, and then my existing links in some of your blogs. But, just the same, I am no longer actively promoting this hole in the wall. I am satisfied with what numbers I'm getting: I am averaging 40 to 50 hits on Mondays to Wednesdays, less than 30 hits during Thursdays and Fridays, and around 70 hits on weekends. And you know what, I am happy with these averages because I read somewhere that the secret of a happy life is lowered expectations.
I don't bloghop anymore because these new blogs tire me with the enthusiasm that peaked on the first month. It has been the same trend since 2005 anyway, and I've since learned to lower my expectations.
The content's a different thing, too. The internet is running out of the Suck My Dick kind of writers that I... prefer. But then, I barely have time to go over those punks in my blog roll anyway, let alone go on a blogger treasure hunt, which is unprofitable eight times out of ten. So I keep myself here and write on a once a week basis.
I don't go out, as far as blogging goes, because I've since learned to lower my expectations.
I no longer exchange links as much as I used to because I've since learned to lower my expectations.
I've kept to what numbers I'm getting because I've since learned to lower my expectations.
So you can imagine my confusion when I saw these numbers last week. And bear in mind that I rigged my StatCounter in a way that it doesn't count my own visits (like to create and edit a post).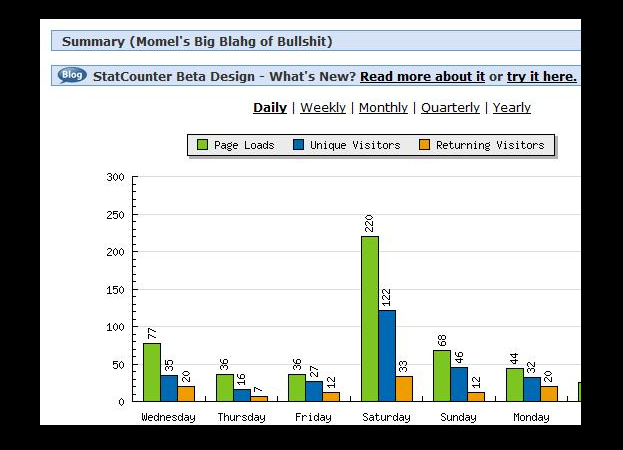 Thank you for your visits. You know what I write, and how I write, and you know how I like to be obscene, but you kept at it anyway and I don't know why. You are such a comfort to my ornamental foulmouthing! You don't know how appreciated I feel with every pageload. And your endorsements and linkages? Why they are a grateful murder to my unthanked being!
But, on a serious note, you guys are hella weird.
Muahness from Pasig Cirehhhh!
P.S. Keep at it though. We can be secret friends. Thanks again!
And on a related note, I would like to thank you, Salbe, for that link. It reflected in this illustrious surge in my hits the week before these stats took place. ABNKKThankYouPPLAAKO.
And to you, Bryan Stars, for being an "avid fan." Your words, amiga, your words. And to The Punk for giving me, at last, the one thing that you spared me since I met you -- eight hours of uninterrupted sleep.