**Long lines give you good ideas.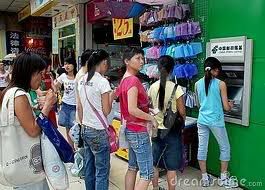 1.

Won't somebody please designate a special booth for people who have no clue as to which end of their ATM goes into the machine? The least they could do is to include Basic ATM Training before they introduce the principles of burger flipping or canned-good bagging or making change.
2.

I know long lines are a drag, but seriously, won't you guys limit your ATM Entourage to at least two people? And mind you, this includes yourself. I understand that the thought of maxing out your ATMs only to have your 800 pesos taken at knife point's something to cry over; your unemployed friends make you feel safe. But help us people at the back by lowering our expectations. Clear up space. Help us keep track, would you?
3.

Why are the sneakier looking social climbers always the ones with at least three ATM cards? And why do they keep the PINs for those cards written in some piece of paper? And why are they always maxing out their withdrawals? For all three cards? And why are... ohhh.
4.

We might be sharing the same queue, but our monthly salaries are a different story. So don't look back at us with that disappointed "How come?" look in your eyes as the machine screams "Insufficient Funds" with your most recent transaction. That laughable gesture's lost its point as we, in the back, don't really care. Life moves on, like this line ought to be doing.
And besides, that sense of indignation feels soo fake.
5.

Please stop displaying your brand new ATM card at us. That makes you look so cheap.
6.

If the machine's an actual booth with a door, and you're next in line, be courteous enough to let the person ahead of you exit first before letting yourself in. That's common courtesy, and there's no buying that. Much like common sense, when there's only one line, and you go on ahead cramping my style with your "Is this the pila (line/queue) for the ATM ba?"
7.

Yes, that machine's smarter than you, and believe it or not, you're already down to your maintaining balance. So stop asking "Are you sure???" with that second balance inquiry in a row. Yes, it's sure.