Before anything else, allow me to say this, and I say this on a fucken spiritual note -- I really meant what I said on that loser post.
This post.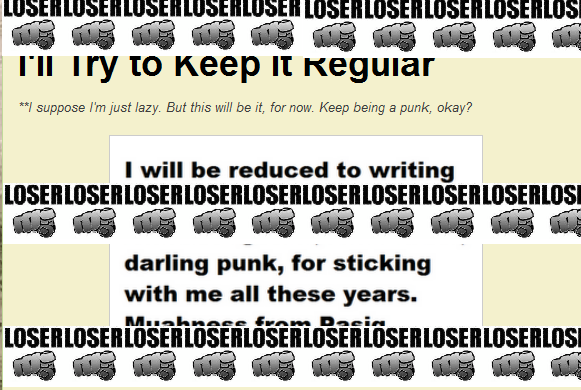 I've been on several hiatuses over the longevity of this blog, and I meant to take that last spasmic fit seriously. I had designed to commit to it's finality. It will be the Hiatus to rule Hiatuses. It will be The One Hiatus. It will be the Queen of Absences, and it will have it's own parade, coronation, and well-dressed, fashion forward, barely legal power tops. I have elected to this new found principle: my posts, then, will be my online menstruation, once a month, and I will honor that promise with every fiber in my increasingly stagnant being.
It sounded like a plan when, in the course of my blogging abandonment, I logged in to these stats in my page load counter.
Fuck. Somebody's reading me. Someone new, I suppose. But fuck.
Nothing alarms me more than a sensational surge in my page loads. Most especially when I'm not that keen in advertisement. Sure, I announce my posts in my Facebook News Feed. I sometimes shout out a pertinent post in Jessica Zafra's comments. But that's about it. Why, look at my roll. Those darlink punks, no, kindred beings are there because I know they get me. I don't add to ornament, no, I don't decorate. My followers? I don't follow on a whim, and I don't follow just because. I judge that whatever followers I have are there out of their volition and their own free will. It's a democracy, that's what it is, and I'm thankful that I have those guys out there.
Having said that, I will go Brazilian and wax my roll.
Sure, I read myself from time to time, but I rigged my Stat Counter in a way that it doesn't count my own page loads. So you'd understand why such surges in my page loads get to me. What the hell? Are there more of me out there? Because if that's the case, then I have no other choice but to save face and keep writing. I have to amuse myself, I have to keep up with the indoctrination and the miseducation.

I need to keep me reading
if there's more of me out there.
I will write on a once-a-week basis, which is basically an improvement on my once-a-month basis. I will do this to keep me above water; I had several bouts with quitting, which prompted these hiatuses, and I used to not know why I keep coming back. But I understood what maligned my enthusiasm towards blogging.
Unlesss you're a professional writer who's disposed to output, or you have a payroll of writers under your belt, or you're earning from your blogging, or you quit your day job (or your kinky night job, at that) because you want to earn from blogging, I suggest that you observe healthy intervals between your posts. You will burn out, if you don't, and I say that with the certainty of a heart attack.
Comments and regulars are nice, but give yourself a life, too. I know it's entertaining, a steady validation, even, but don't get too attached to this correspondence. Unless, of course, you never had one to begin with, please live the life you had before you signed up for a Blogger Account. Go out. Drink alcohol. Get laid. Get laid again. And again. Give yourself time to masturbate.
I've been blogging since 2004, and I'm still, barely, hardly, scarcely, tolerably at it. I just realized that this is my 359th post, and I don't see a particle of accomplishment in it. But we will drink to my 400th post, and I will be buying. Or hosting, rather. Let me know if you have nothing against participation; write me a comment.