**I think you guys should meet him. He was one of my earlier posts that actually had comments, he's a favorite among my two offline readers, and he reminds me of the earlier days. Presented for your orgasmic pleasure, ladies and gentlemen, that endearing idiot telemarketer, Lemuel.
**A funny thing happened to me one time last September of 2004.
I spoke with an actual telemarketer!
The sales call was nothing I would observe myself, it losing out on the finer points of telemarketing, but I remembered it well enough to be able to transcribe it minutes after I dropped the phone on this Lemuel guy. He hee, if you've been in the telemarketing industry for more than a year now, sales agents like Lemuel aren't the type you'd usually forget. The bottomline was that he wasn't good at all, and that's an easy understatement. He sounded like he was courting the household help, I mean, he sounded like the Filipino equivalent of a redneck. He doesn't know what he's saying, and he sounded so friggin' boring, I wondered why I listened to him while he was delivering his sales pitch.
Maybe I did it for the novelty of my first telemarketing call. But if anything, this was hilarious.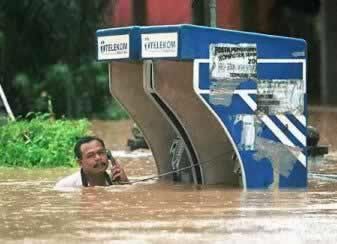 Lemuel:

Puwede po ba kay Rommel Tullao? Si Lemuel po ito, sa PLDT.
Me:

Si Rommel ito, bakit, anong problema? (Yeah, so it's Rommel all along.)
Lemuel:
Tanong ko lang po kung may picture na kayo sa PLDT?
Me:

Picture? Anong picture? Bakit kailangan ng picture sa PLDT? ID ba yan? Ilalagay sa billing statement?
Lemuel:

Hindi po. Pictures po para sa PLDT, yun bang call wait, call fo-ward, tsaka speed dial. (Oh, he was talking about features. Unbelievable. He spoke like he was right all along.)
Me:

("Is this a sales call?!?" was the thing which came to mind.) Ahhh, wala pa. Pwede bang paki-explain yon, hindi ko alam yun eh. (Of course, I was trying to get the most of my first sales call. I used to be a telemarketer myself.) Yung call wait, alam ko iyon, meron kami noon eh. Eh ano naman yung call forward?
Lemuel:

Yung call fo-ward kasi ganito yun eh, parang ano lang yun, kuwan. Teka lang ha. (At this point, he puts down the phone, and the following conversation was heard in the background:)
Lemuel:

HOY, NONG! Ano ba ulit yung, ano ba yun, yung call fo-warding? Eh pinapapaliwanag nitong kausap ko eh!
Man in a VERY Loud Voice:

SABI-HEN mo, yung call fo-ward, ano lang yun, halimbawa, may pupuntahan siyang birthday, tapos ano, TEKA NGA!(This man with the loud voice then picked up the phone, and I found myself talking with him.)
MAN:

Hello, ikaw ba yung kausap ni Lemuel?
Me:

Opo (Duh). Ano ho ba ulit yung call forwarding? (I was having fun at this point already.)
MAN:

Kasi ganito yun, halimbawa, may pupuntahan kang birthday, tapos walang maiiwan sa inyo, edi ang gawin mo, i-call fo-ward mo yung telepono mo para doon mo na lang sasagutin sa birthday.
Me:

Aaah, eh pa'no kung walang telepono sa pupuntahan kong birthday?
Man:

Ehhh, pakabitan natin. Pero kuha mo na yung call fo-ward, ha ser?
Me:

Oo, okay na.
Man:

Ehhh, teka lang ha. (He then puts the phone down, and started shouting in the background, "HOY Lemuel, okay na. Eto na 'o!" Moments later, a familiar dull voice was heard on the other line.)
Lemuel:

Okay na ser?
Me:

Oo, okay na. Eh ano naman yung speed dial, ha?
Lemuel:

Ganito lang po yun ser. Yung speed dial eh ano lang, magpipindot kalang ng number tapos makakadial ka na.
Me:

Niloloko mo ata ako eh! Eh siyempre ganoon talaga yun para maka-dial, pipindutin mo siyempre yung mga number!
Lemuel:

Hindi po ganoon yun. (Mali na naman ako. Kasi naman eh.) Ibig sabihin, isang number lang yung pipindutin mo para imbes na (He starts counting softly.)para imbes na pitong number eh isang number na lang yung ida-dial mo.
Me:

Teka, call center ba ito?
Lemuel:

Hindi po, PLDT po ito. Sa OPSIM (or something), dito po sa San Joaquin (Pasig).
Me:

Eh paano ko malalaman na PLDT ka nga?
Lemuel:

Punta po kayo dito. Dito po kami sa tapat ng...(I cut him off.)
Me:

HA? Pinapapunta mo ako diyan? Teka, magkano naman yung tatlong features na iyan ha?
Lemuel: Ano po, P59.75 lang kada buwan. Fixed na ho iyon. (I'm not sure if it was 59.75 or 59.25, I forgot that part).
Me:

Puwede ko namang i-cancel pag ayoko na? (You have no idea how I wanted to be the one to cancel something over the phone!)
Lemuel:

Opo, kayo naman magbabayad noon eh.
Me:

Tapos, doon na lang siya lalabas sa billing statement, diba?
Lemuel:

Opo.
Me:

Tapos, kailan siya maa-activate ha, Lemuel?
Lemuel:

Tatlong araw pa ho, kaya malamang sa Lunes.
Me:

So, anong kailangan mo ngayon? (He wasn't using a script, I think.)
Lemuel:

Kelan birthday mo?
Me:

BAKIT MO NAMAN TINATANONG ANG BIRTHDAY KO?
Lemuel:

Eh, kailangan po eh. (Why can't I use that in my telemarketing rebuttals?)
Me:

(I wanted to humor him.) O sige, August 8.
Lemuel:

Akina na yung SSS number mo.
Me:

HA? Pati ba iyon?
Lemuel:

Kailangan po eh.
Me:

Naku eh, nasa office ID ko, hindi ko maalala. Tawagan mo na lang ako sa Lunes para maibigay ko sa iyo, okay?
Lemuel:

Wala ho sa inyo ngayon?
Me:

Tawagan mo na lang ako sa Lunes.
Lemuel:

O sige po. Babay.
This was my first ever sales call, and I was intrigued by the many similarities between his call and my sales scripts. Of course, I was a little... refined as "Ben Tumbling," that being my American name, but I appreciated the way he wanted to answer all my questions. He was a little crude and all that, but with a little training, I'm sure he'll do good.
So what happened to Lemuel, anyway? He never called back.