**Seven. Like the deadly sins. And in spite of this, I'm glad that Facebook doesn't have a

Post On a Need to Know Basis

in the fine print. I wouldn't have material otherwise. And before we begin with this playful list, I challenge you, my Dearly Beloved reader, to ask yourself this.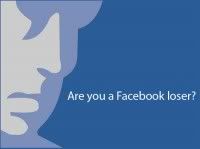 I am writing a post that will boost my Facebook posts, but that took longer than an erection on some pothead. That explains this repost. I wrote this in November 2010. It can use an update, but it's still relevant.
Seven. Like the deadly sins. I will be updating this post soon to include "The Sudden Expert," "The Nearly Faceless," and "The Spoiler."
1. The "I Heart My Macchiato" Poster


This is usually accompanied by a picture of a half eaten banofee pie and a Tall Caramel Macchiato with their name painstakingly made visible on that one shot. I get it. You have hand-me-down taste. And it would have been so very special, so damned special if there weren't one billion of your social climbing kind out there. Underscore would have been. Stick to your calls.
LOSER RATING:

This poster doesn't qualify. There's nothing wrong with this kind of poster, but a ratio of four Machiato posts to one generic post is doubtful.
2. The 20-year Old Kid and His Unsolicited Love Advice


I say grow up, get yourself a haircut, move out of your parents' house, start supporting yourself, and then tell me about it. If I wanted advice on that crazy little thing called love, then I'd get me a mother fucking fortune cookie. Or read the horoscope. Or buy me a Bob Ong book and then count the number of times he's been plagiarized by you little boys and girls just for the devilish fun of it.
LOSER RATING:
Doesn't qualify.
I'm not saying you're dumb. Far from it. I simply have no employment for your advice.
3. The "I Hate Your Guts, But I'm Too Chicken to Tell It To Your Face, So I'll Post a Shout Out Instead and Wait for the Comments Because I'd Rather Have Sympathy Over Courage"


They were mighty fluent during the last election period. And they can't get enough exclamation points. I had to import mine from China.
LOSER RATING:




4. The "I Have a New Post in My Blog, and I Will Be Too Cross-Eyed with Delight If You Guys Can Click on this Link Here."
Faggot, if we know you have a blog, and if we liked the shit you wrote about the last time you endorsed your proud waste of internet space, then we'll bookmark you, and you don't have to ask. So stop distracting me, bitch. I'm uploading my macchiato/banofee pics.
LOSER RATING:




5. The "I'm Telling You Anway" Poster
Personally, this has got to be the most self-absorbed of the lot. He's too self-absorbed, you'd think his physical constitution is made of up 40% water and 60% cotton. He posts about the most useless triviality, the most unusable detail, the superficial more often than not that he prompts the question:
And we should know this because?
Really, we're just so positively thrilled that you "just woke up :)," or that you're "cooking beef tapa," or that you're "4 cm na," but seriously, why do I need to know that?
LOSER RATING:


6. The "Poor You" Poster
There's this one loser in my network who shouted out that he's not going to be on Facebook for a few days. Nobody made a comment. A few days later, he posted a follow up shout out saying he's back. Again, nobody posted a comment. Sigh, this poor thing was thinking somebody cared. Let it be known that this facet of social networking, i.e. getting ignored, is most certainly heart breaking because it defeats the point of a subscription. But I have to admit, that shit is entertaining most especially when that somebody is getting ignored twice.
It can be argued that this kind of poster, the "Poor You" poster, is a distant relative of the "I'm Telling You Anyway" poster , but unlike the latter, the often-ignored "Poor You" poster is amusing. Because he's relentless.
His shallow shout outs, and that's a staggering understatement, rarely, if not never, get the props he was shooting at. Like the "I'm Telling You Anyway" poster, this attention whore just can't cut it, but, for some reason, he's far too encouraged by all that conceit that he goes for yet another nip at attention. Which he doesn't get. One can be led to believe that all the 300-plus people in this loser's network died over the weekend. Or he's just dead to them to begin with, and he's just there for quantity. The poor little bastard needs a consolation, so here's a customized comment you can use if you suspect one of these losers in your network:
"I don't know where you get your sense of entitlement, but you need to lose it."
LOSER RATING:



7. The "I Like What I Said" Poster
There was this one gay loser kid (Jesus, I need to trim these people down) in my network who posted that he's in a relationship. And it looks like he liked it so much that he was the first one to click on the LIKE link. Which doesn't make sense to me, because you don't post things like that if you didn't. Now it would have been fantastic, like in a fantasy, if his audience humored his bullshit, like good fucking sports, but no. The "I Like What I Said" poster's was the only acknowledgment on his own shout out. And that's just sad.
Imagine laughing at your own joke because nobody found it funny. That's the "I Like What I Said" poster for you, and he's an unprecedented height of pathetic. Because he's doing it for the fake props, and not to save face.
LOSER RATING: