**If you're using Windows, then do
Start > Programs > Accessories > Notepad.
There are times when it doubles as a magnifying glass of sorts. And I'm swearing by the way it
illuminates
your posts when I'm reading them.
Here's what I always do when reading your posts -- I copy-paste your recent entry into an open Notepad, and then I read it from there. It's because I can read it from there without the distracting necromancy that is HTML. The thought is naked, the composition is bare, it's just me and your words in their final arrangement. Reading it in this white blank space, and in that no-nonsense Arial font (size 11, regular), allows me to digest the fiber of your thoughts presented in that signature way that only you, the writer, can arrange them. I'm getting closer to your style of writing this way, not to plagiarize, but to familiarize, and I can arrive at a more, shall we say, human response.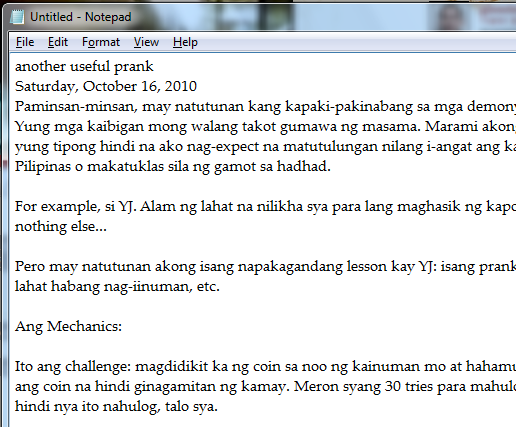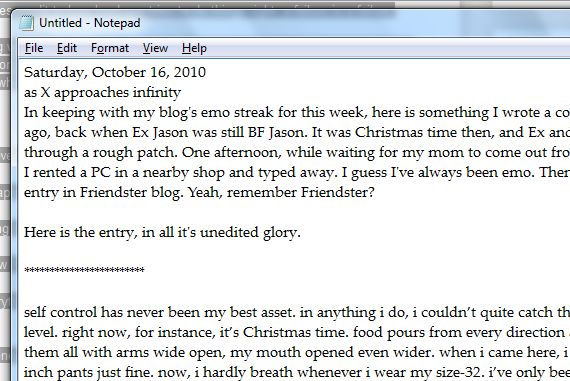 Unless of course I just don't get the shit that you wrote. In which case I do The Quick Brown Fox Jumped Over the Crazy Poodle several times until I'm satisfied. And then I'll go back to what you blogged about, and then be an awful jerk about it just because.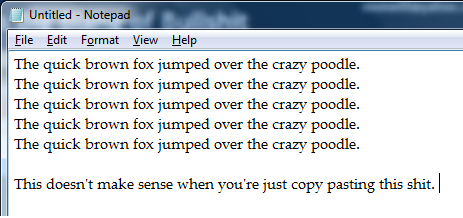 This is why most of my comments are closer to home. I don't want to look and sound generic.



¹Awful. It's been about a week since my last post. Jesus H. Christ, talk about lazy! Sorry about that, boys and girls.