The first thing I asked that taxi driver was if he had change for five hundred pesos. He said he did. And then he paused, look at my face, and said "

Kamukha mo si Freddie Aguilar.

" (You look like Freddie Aguilar.)
I was screaming in my head,

Ibaba mo ko! Ibaba mo ko! Freddie Aguilar ka pa, syet!!!

But I didn't, because I was ten minutes away from getting late. And besides, that made for a validation. See, I sometimes call myself Freddie Anne Curtis Aguilar Barretto for kicks, and so that comment really didn't offend. And it was a funny story, too, so I really don't mind. There's nothing painful about it, Kuya Eddie, and I even gave that driver seventy pesos for a sixty peso drive.
I was doing research for a set of Trivia Questions¹ when I discovered this most curious, unheard of puppet in that all-time childhood favorite Batibot. Her name's Khie-khie Pay, and here's her Wikipedia Entry
Khie-Khie Pai, a Bruha orWitch (Reseth Neniel) who, flies at midnight with her broomstick. She is fond of doing VOODOO, playing with her favorite voodoo doll named JC her crush known as Bhu-bhu Yhug.
Khie-Khie Pay. That would have been my drag queen alter ego, and I can either be Khie-Khie or Khie Pay, and I'll start using it now because it sounds fantastic either way. That's too good a name, it's more than a steal, it's a snatch. Also, that can be my American Name, on the phone, while I'm at that kinky night job. I can hear it now -- "Hi this is Khie-Khie, how can I help you today? Whaddaya mean where am I located? I'm the happiest place on earth."
The Afternoon With Jessica Zafra post was responsible for two days of unprecedented page loads. Thanks to Madame Zafra for allowing the shameless self promotion in her comments, and to Glentot for the link, to those wonderful people in my Facebook network who took the time to humor that shout out, and to those amazing bloggers in my roll.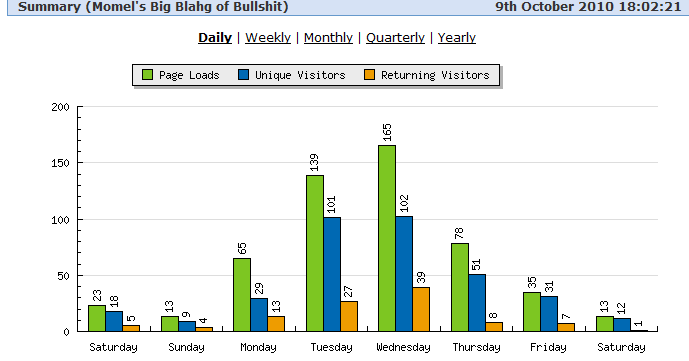 You should know my panties are wet with tears right about now. But seriously, thanks and cheers you all!



¹I love those snippets of unneccessary information that you don't really need, but you like knowing just the same because they are reminiscent. What was the name of She-Ra's horse? Of He-Man's tiger? Of that forgetful fortune teller in Batibot? Which Bioman died? You know the drill, and yes, this is a project I'm working on.