**Coincidentally, "Gaga" is also a Tagalog word for Stupid. And what makes it all the more stupid is the idea that some people are still struggling for an identity at the age of 31.
She's this flamboyant rising star whose curious lyrics are transmitted with an outrageous sense of style that, although not really unprecedented, creates this likeably retarded personality. Her originality is, at best, arguable, but her uniqueness is never boring. That's Lady Gaga for you.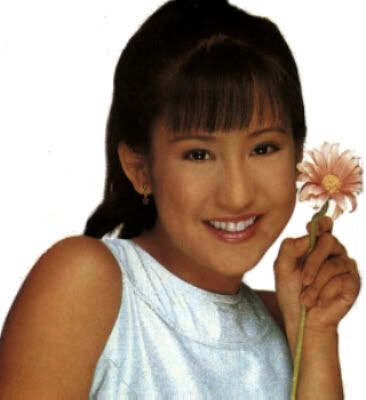 On the other hand, she started as this sweet little regular looking child star, whose singing chops are just as unremarkable. She had that lost sense of style that's punctuated by mix and match accessories that neither mix nor match. And you should see her obviously "arranged" Wikipedia page. That's Jolina Magdangal for you. And by "lost," I mean aimless. Her child star days are obviously long gone, but she never lost the appeal of the undecided. It could be argued that the reason behind her okay transition from "child star" to "still employed in show business" is because she had this genuinely affectionate sense about her. And people like that. That likeability translates to employment. And this is never why she's out of a job.
No, it's not because of those man-whores she shared "love teams" with. Those dipshits can't be popular on their own, so they weren't really instrumental, thank you very much. And while I'm on the subject, allow me to bitch fit; "love teams" are just so fucking backwards. There's just something unnecessary about this sort of arrangement. Most especially if one has enough star power for two people. See, if the bloody planets were aligned proper on the day you were born, and you were supposed to be famous by default, then you don't need a chaperone on your way up. Unless you see yourself as some sort of charity that endorses talentless nobodies. Sure, I understand that such dull gimmicks are aimed towards their wide-eyed and dreamy groupies, but these pathetic gay wad packagings are just dead to me. And my people. Love teams, in all their excessive cheesiness, are nothing more that smelly, ball sniffing, flea bitten dogs that are barking at the wrong gay tree.
Now a gay love team, THAT would be curious. Nobody's tried that yet, but on the impossibility that they did, then I'll give it a shelf life of a year. Until it's either done to death or no longer entertaining. Pity, that Sofitel incident had the makings of a pioneer.
Now let me go back to the wannabes I was talking about. Jolina Magdangal is still in Filipino show business after a lackluster twenty something years, and then, for once, she does something worth talking about. In what might be a suicidal slash comedic and altogether pathetic attempt at reinvention, Joline Magdangal becomes Lady Gaga. Yes. And I can hear your eyebrows raising. It's the same sound that your disgusted smirks are creating. And you know what, that's not stopping her from going Gaga.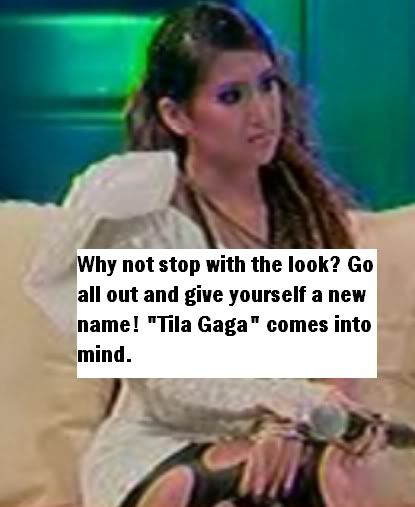 Although this little episode slash epileptic fit teaches us absolutely nothing in terms of making sound decisiones, it does reveal an unscientific first. Metamorphosis can be done backwards.