**Filipino's doing a tribute to the Oscars? Seriously, what kind of rice are we eating these days?
I know it's old news, but its attracting the same kind of disgust anyway. Really, what the fuck is up with that? I honestly don't see the point in doing some big time ass kissing unless we're social climbing in a grand scale. And even then, I really don't see why. Are we soliciting attention from some idle bottom feeder in Hollywood, perchance he Googles the wrong set of words and sees this kind of crap?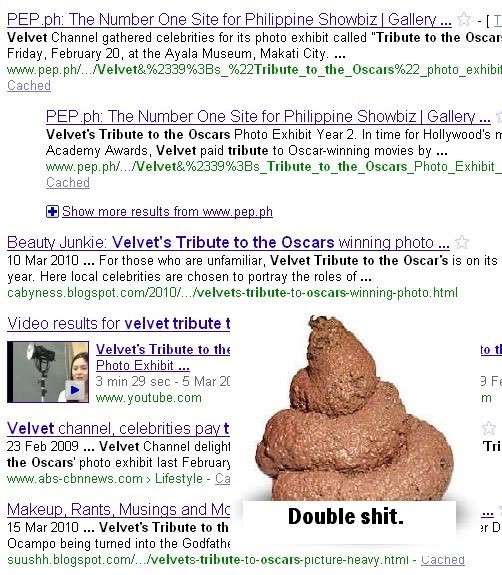 That's just pathetic in many different levels. I mean, can't we kiss our own brown asses instead and celebrate... what's left to celebrate in our home grown talent. Ohh, there you go. I just had a light bulb moment. I suddenly realized that maybe, in the midst of all these indie films that border on cheap gay porn, and in between those increasingly dull love stories that Star Cinema recycles in different degrees of tiredness, and in those insanely powered up remakes of Ramon Revilla's or Mars Ravelo's or Carlo Caparas' characters, and in the light of all these faith healing kids, maybe there just isn't anything left to appreciate.
Now I get it. But that doesn't mean we're any less of a social climbing nation.