**I was supposed to post this in between my usual Friday updates, maybe on any random Thursday or something. This was supposed to be an Emergency Post. And I was supposed to caption this with something friendly, like I will break my rules for this guy. Didn't happen. But his book did! Yeah, you go give them hell, Andoy!
Unang Putok will be available in National Bookstore beginning November 12.
I have known this blogger for several years now, met him twice, and remained a fan all that time. Still am. Enough about me.
Andoy's
got a book published!
This blogger is awesome. This book may or may not be the be all and end all of his writing career, but it's a good start. He deserves this, and much greater things, and I am rather glad that he is finally getting published.
Painom ka ah!
(Drinks on you!)
I will not write a review. I haven't purchased a copy yet, but I will get to it as soon as I have gotten over this inexplicable feeling that a blogger has for another blogger. It's indescribable, but it can be measured; it is 20 percent jealousy and 80 percent congratulatory. If you want a review, do a Google search. He has tons of die hard fan boys and fan girls who already posted the honor.
I would assume that this book is something that he, as a blogger, has always wanted to do, and I am happy for him and his accomplishment. On a more personal note, I am sorry, Andoy, that I wasn't able to give you That recommendation. You know what I'm saying, but know that I tried. However, with the look of things, your book will propel itself to a larger, book-buying audience anyway.
Congratulations Andoy! Your book will go places! And it is not because it has longer legs than you, oh hell no, far from it.
Meanwhile

, I beat Sid Lucero in Ultimate Marvel vs Capcom 3. Well I'm sorry, my Facebook friends, if I had to rub it in. Again. See, you don't get home from a long day in the kinky office expecting some console gaming with a celebrity. Things like this don't happen everyday. Why, things like this don't just happen at all. And on the off chance they do, then you post it wherever possible just for good measure.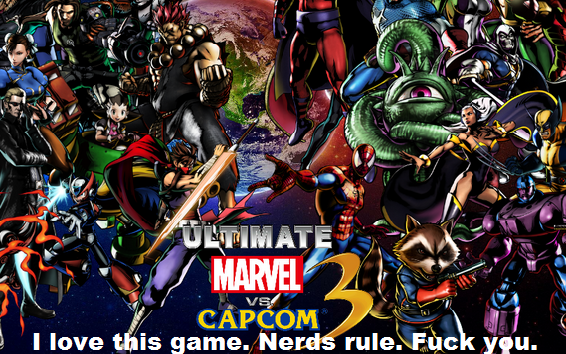 I had to customize this picture. So?
I'm the one with the head band. This was around 8:30 am last Tuesday. And yes, I know, UMVSC3 has been around for around two years now. However, I have never played it before with a celebrity. I have never, up until last Tuesday morning, played UMVSC3 with a celebrity. Having said that, and I say this on a "Shhh, it's okay" tone of voice, fuck you and your insecure fault finding.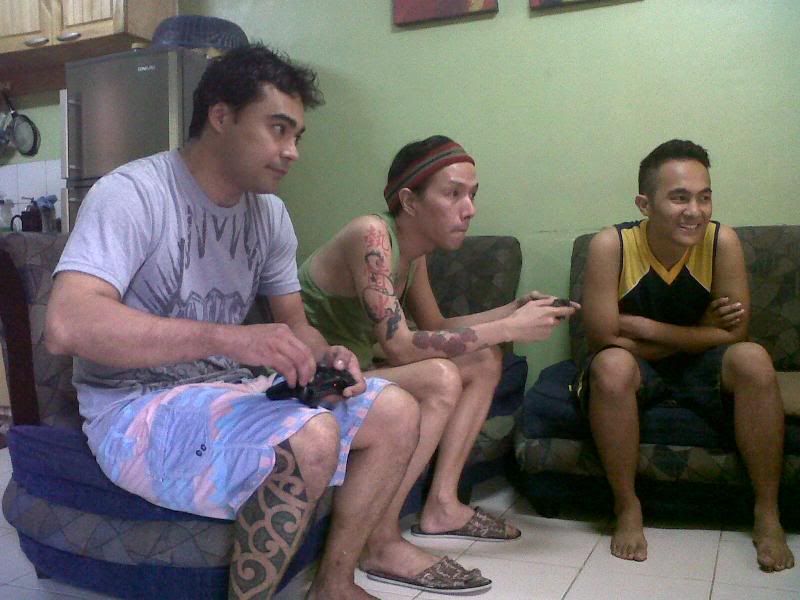 It was my "Best Pick" Team (Chun Li, Haggar and Rocket Raccoon) against Sid's (Zero, Wesker and Vergil). He was playing against my brother Jacob earlier (seen in the picture), and I knew Sid can pull off some combos. I remember he had to customize the controls since he's used to a different button configuration. And I remember the words "Bring it" at the back of my head.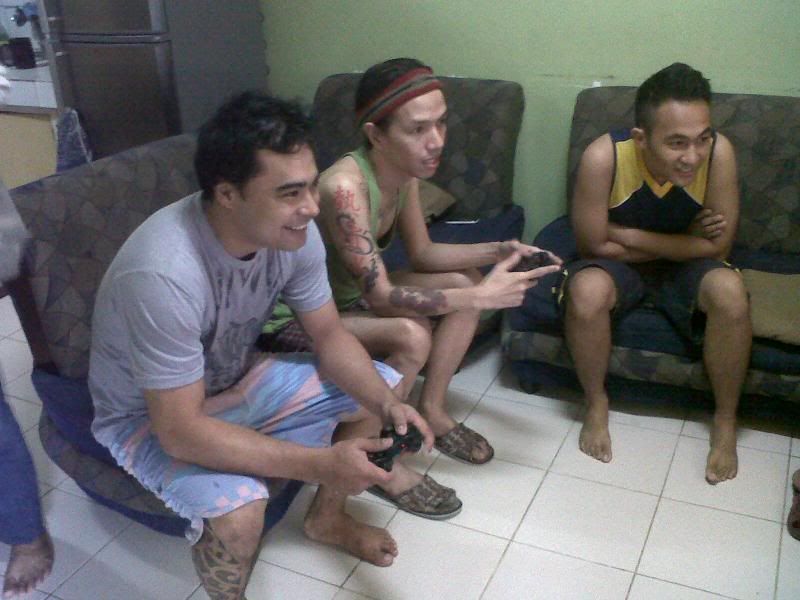 Advanced guards, timed assists and TACs (Team Aerial Combos). Nobody's winning yet, all of our team members are still alive, and we're still figuring out how to off each other's anchor. Mine was Chun Li. His was Zero. Oh, that awesome leg tattoo wrapped half the length of his right leg.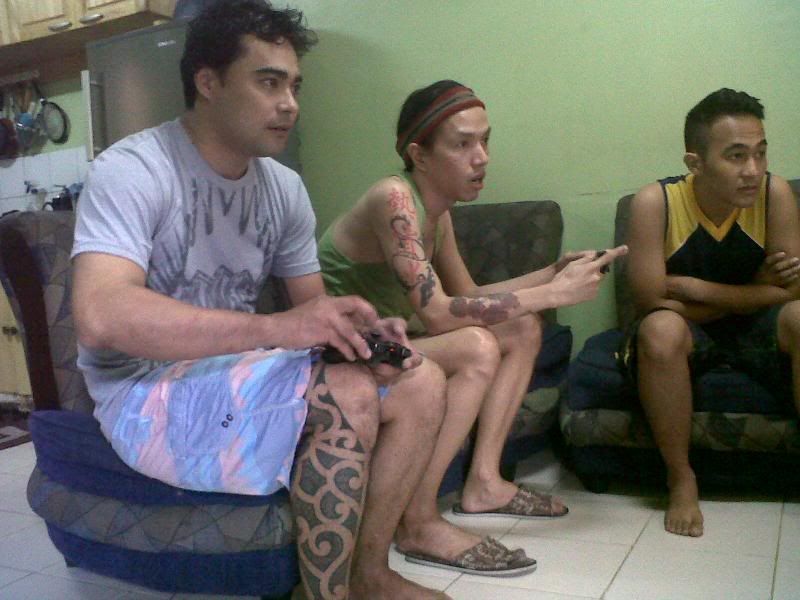 Game face on. Somebody managed to dodge a hyper and is closing in for some sort of punishment. Who knew who was leading? Notice how Sid worked his controller? He admitted he's not used to the PS controller. He owns a custom joystick. Yes, dude's a verified gamer. Meanwhile, you could stick two controllers in my wide open mouth.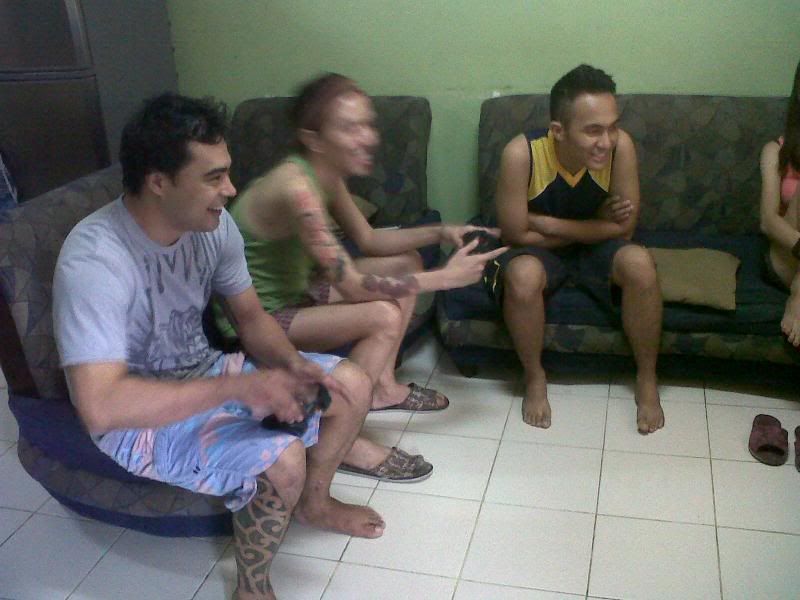 He was down to one character at this point, I think it was Vergil, and he resumed his hyped gamer side. You know how it's like when it's neck to neck on a basketball game? And your team could win if they did it first? And the game has boiled down to the last critical minute? Imagine playing that much energy on a 32-inch screen . I won, by the way. I knew I would, of course. But it was intense because I beat Sid Lucero, haha.

Oh, that person to the right most (pearly white skin and pink blouse) is my friend Onath. I thank him for this twisted opportunity. We are forever grateful for this! And that lunch with the cast and crew is way beyond words.